Multi-Faith Funerals Held For Victims Of Mediterranean Capsized Migrants Boat
African News, Latest News, News
Thursday, April 23rd, 2015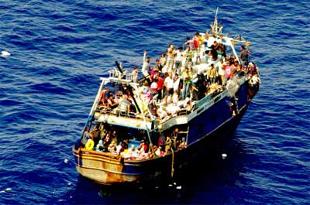 –As EU Leaders Move To Check Influx Of Migrants
A multi-faith funerals service has been held in Malta, for 24 victims killed in the worst ever recorded capsizing, of a migrant boat in the Mediterranean.
No fewer than 800 passengers died in last Sunday's disaster. The Italian police indicated that the captain mistakenly crashed the boat against a merchant rescue ship, leaving the number of casualties in the similar development estimated at 1,750 in the year 2015.
The multi-faith service held at Malta's Mater Dei hospital near Valetta and led by the Bishop of Gozo, Mario Grech, and an Imam. The historic service was attended by Prime Minister Joseph Muscat as well as Ministers from the neighbouring Italy and Greece.
Bishop Grech in his funeral admonition bemoaned "The migrants were escaping from a desperate situation, they were trying to find freedom and a better life,"
In the meantime, the European Union (EU) leaders are scheduled to hold an emergency summit later today, to consider ways to check the number of people risking their lives in drives for greener pastures.
Draft proposals for the meeting include offering 5,000 places for resettlement for migrants "qualifying for protection" under a pilot project.
It is also expected the EU Leaders will be committed to "undertake systematic efforts to identify, capture and destroy vessels before they are used by traffickers".
An estimated 21,000 migrants have reportedly arrived Italy this year. The case is the same in some other EU member states.
Short URL: https://www.africanexaminer.com/?p=23308