Muslim Group Carpets Presidency Over Planned Demolition of Baraje led PDP Secretariat
Ayo Balogun, Featured, Latest News, News
Thursday, October 24th, 2013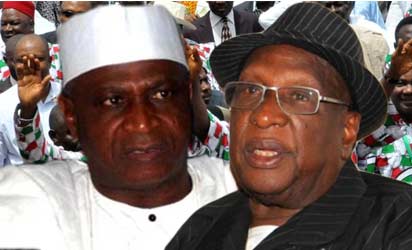 Ayo Balogun, Lagos
… Says Actions Are Hallmarks of "Totalitarian Dictatorship"
A Muslim group known as Muslim Rights Concern (MURIC) has slammed President Goodluck Jonathan led administration for threatening to demolish the national secretariat of the Baraje's led faction of the People's Democratic Party (PDP).
In a statement sent to African Examiner and signed by a Director of the group, Prof. Ishaq Ishola, the group noted that the planned demotion is nothing but an invitation to anarchy even as Prof. Ishola argued that such plans "are the hallmarks of totalitarian dictatorship."
The statement reads:
"We observe that the same building had earlier been used as the national secretariat of another political party, the National Democratic Party (NDP), before the Baraje faction of the PDP acquired it.
"It is interesting that FCTA did not realise that it violated land use at that time. The fact that FCTA still wants the secretariat destroyed despite the fact that the building had been seized by the police for weeks reveals the desperation in the actions of this regime.
"We warn that it is an invitation to anarchy if the secretariat is pulled down. Those who make peaceful change impossible make violent change inevitable.
"It is also a strong piece of evidence that the ruling party is jittery. It is losing confidence in its ability to win the next election through fair means. Desperate to hold onto power, it has unleashed every weapon in its arsenal, both fair and foul, to intimidate the opposition.
"We therefore express the fear that the ruling party is already busy putting finishing touches to a super plan to rig the next election.
"The proposed national conference which the government has embraced overnight and which it is pursuing with alarming vigour may be one of the smokescreens.
"It is the considered opinion of the Muslim Rights Concern (MURIC) that FCTA's body language constitutes credible threat to a free and peaceful 2015 election.
"This must concern every Nigerian citizen as well as the international community. By taking these actions, this government can best be described as oppressive and tyrannical. Or how else can any sensible person describe a regime that plans to demolish a building simply because it perceives the owner to be anti-government?
"It is this same regime that has subjected Governor Rotimi Amaechi of Rivers State to severe travails thereby preventing the governor from delivering the dividends of democracy to the citizens of the state.
"Sokoto State Governor Aliyu Wamakko was suspended from the PDP simply because he did not pick the telephone call from PDP Chairman Bamanga Tukur.
"Is this democracy? The opposition is being witchhunted. Planes conveying key opposition figures are not being allowed in Nigerian airspace.
"The police is being used to coerce governors perceived as unfriendly. Opposition figures are being hounded by the Economic and Financial Crimes Commission (EFCC). These actions are the hallmarks of totalitarian dictatorship.
"MURIC calls on all opposition parties in the country not to relent in their efforts to defend democracy and the rule of law.
"We charge civil society to stand up and be counted in the battle for the defence of the golden principles of good governance: liberty, social justice and the rule of law."
Short URL: https://www.africanexaminer.com/?p=3465