NAMA Spends N200m Annually On Navigational Aids Maintenance
Business, Latest News
Tuesday, February 4th, 2014
Ruth Bamidele , Lagos
Nigerian Airspace Management Agency, (NAMA) says it spends about N200milion annually to calibrate navigational aids at 26 airports across the country.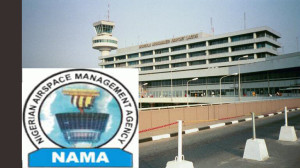 The announcement was made to newsmen on Tuesday in a release signed by the agency's Public Relations Officer, Supo Atobatele.
He further revealed that as part of the agency's commitment to enhance air safety, it has commenced the calibration of navigational equipment at some airports across the country.
This according to the spokesman would assist in putting all the navigational aids in proper shape at these airports.
The routine calibration exercise commenced at the State owned Birni Kebbi airport where newly installed Doppler Very High Omni -directional Radio Range (DVOR), Distance Measuring Equipment (DME) and Instrument Landing System (ILS) were commissioned.
Routine checks on VOR/DME equipment at Sokoto, Jos and Abuja are also to be carried out by the technical team including the Precision Approach Path Indicator (PAPI) of the Abuja and Kaduna airports.
The glide slope of Kaduna airport will be re-checked as well.  Similarly, the newly installed Conventional VOR /DME at Enugu airport will be commissioned while the VOR/DME at Owerri and ILS/DME at Ilorin are for routine check.  The one week exercise is being handled by ASECNA, a Dakar based Calibration firm.
Short URL: https://www.africanexaminer.com/?p=7974