National confab: Focus strictly on the Nigerian Agenda, Jonathan tells delegates
Featured, Latest News
Monday, March 17th, 2014
Kayode Adelowokan
As the long awaited national conference was official declared open in Abuja on Monday, President Goodluck Jonathan, has called on all delegates to focus strictly on the Nigerian Agenda.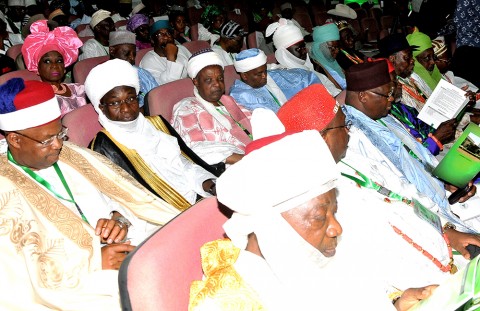 President Jonathan said though the task before delegates is onerous; but said that there can only be one winner if they do everything right, and that winner must be Nigeria.
In his word, "I expect that, as persons of integrity and honour, you will do nothing in this Conference that will undermine our efforts and desire to build a truly great nation. I also expect that your discussions will be informed only by the noblest of instincts and persuasions.
"While we recognise that groups and communities are the building blocks of our nation, we must also emphasise that we need one another to build the solid and prosperous country of our dreams.
"We cannot join hands together to build with a collective vision if we continue to harbour negative biases and prejudices against ourselves.
"Yesterday's prejudices should die with yesterday. Today is a new day. This is the dawn of a new era. This is an opportunity to think anew. We must jettison the poisonous mind-sets of the past, which were built on unhealthy competition among our diverse groups and peoples."
He maintained that there is need for every Nigerian to have a new mind and a new spirit of oneness and national unity, Adding that the time has come to stop seeing Nigeria as a country of many groups and regions. "We have been divinely brought together under one roof. We must begin to see ourselves as one community. We are joined together by similar hopes and dreams as well as similar problems and challenges. What affects one part of the community affects the other", he stressed.
President Goodluck Jonathan, also appealed to all officials and participants in the national conference to work extra hard to ensure that their deliberations are completed on schedule, well ahead of the schedule of events for the next general elections already announced by the Independent National Electoral Commission (INEC).
Meanwhile, the President expressed the believe that the issues to be discussed at the conference should not be approach with suspicion and antagonism, rather, said everyone should be open-minded and work to achieve what is best for the country.
"Though you come to the Conference as nominees and representatives of different interest groups, I urge you all to make a more united, stronger, indivisible and prosperous Nigeria your preoccupation and reference point at this national gathering. Whatever the pressures on you may be, I call upon you to put the best interest of Nigeria before all other sectional or group interests."
Also, President Jonathan said he is not unmindful of the argument of those who say that the country does not need such a conference since there were already an elected Parliament and an elected Government in place.
The President said, "As cogent as that argument may sound, I have chosen to act on the sincere conviction that in the truly democratic nation we are striving to build, we must never ignore the loudly expressed views of the majority of ordinary Nigerians.
"I have heard that majority say, that we need to rebuild trust by involving them in the process of developing a guiding document of our national politicaal relationships which is more acceptable to all sections of the country. I have heard our people say that we need to openly and frankly discuss our problems and seek acceptable solutions instead of allowing them to fester and remain sources of perennial conflict.
"I have also heard them say that, as the elected representatives of our people, we must never arrogate to ourselves all knowledge and wisdom regarading the development of our country.
"And I am in full agreement with our people. The power we hold is, without question, in trust for the people. Sovereignty belongs to the people. Their voices must be heard and factored into every decision we take on their behalf.
"This National Conference is a very important avenue for the voices of our people to be heard. Our people have yearnings and desires that need to be discussed. Their representatives at this conference are neither usurping the role of the National Assembly nor the Executive. They are complementing us in our march towards a greater and stronger union."
Short URL: https://www.africanexaminer.com/?p=9221