National Confab: Prof. Ango Abdullahi Canvases for Parliamentary System
Agabus Pwanagba, Featured, Latest News, News
Wednesday, October 23rd, 2013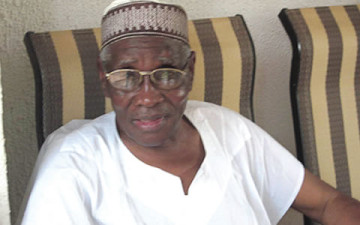 Agabus Pwanagba
Following the convocation of the National Dialogue Committee by President Goodluck Jonathan, the Pro Chancellor of Abubakar Tafawa Balewa Universiy, Bauchi, Professor Ango Abdullahi has canvassed for the Parliamentary system of government saying it will address the socio political and economic problems bedeviling the country.
He said, "Going by the present position of the country, parliamentary system is the best, because it will address the problems of corruption, insecurity, non performance, and it will give opportunity for the electorates to always check their representatives, since members of the parliament are elected members that always report back to the electorates.
The former Vice Chancellor of the Ahmadu Bello University Zaria maintained that, the Presidential system of Government is too expensive and it gives the executives too much power without recourse to the electorates, also arguing that the presidential system is weak for a developing country like Nigeria.
He advised the National Dialogue Committee to look into the issue of reverting the nation's system of Government to parliamentary and seek for public opinion on parliamentary system of government for the unity and development of the country.
The University Don stressed that, the problems of Nigeria started since during the amalgamation of Southern and Northern Protectorates explaining that before the amalgamation Nigerians were discussing with each other on matters that affect them in the parliaments and many conferences were held with a view to addressing them.
He however picked holes in the planned National Dialogue Committee, noting that the committee was set without adequate preparation from the Federal Government and the way it was set up will give room for suspicion that the Federal Government has an ulterior motive in set up the committee to achieve political gains.
Short URL: https://www.africanexaminer.com/?p=3450