National Conference 2014 Shifts Resumption to August 11
Featured, Latest News, News
Monday, July 28th, 2014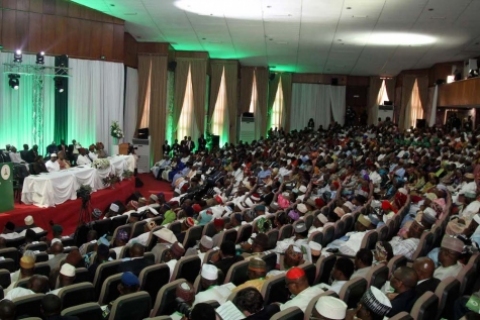 Sequel to possibility that copies of its draft report may not be ready for distribution among the delegates, the National Conference 2014 secretariat has announced change in the resumption date of members from August 4 to 11 this year.
This, the conference management indicated was to avoid a situation where delegates return to Abuja without having the necessary materials to conclude the session within the time frame specified in the Work plan.
The Conference's Assistant Secretary, Media and Communications, Akpandem James announced the shift in a press statement which was made available to African Examiner. The statement revealed that substantial works have been done on the various sections of the report and the management hoped the entire draft would be ready by the scheduled date.
James disclosed that due to the two-day public holiday (Monday and Tuesday) – July 28 and 29 respectively declared by the Federal Government for Salaah and the volume of the report, which various sections have to be integrated and produced at the same time, it was obvious that "500 copies of the draft report in the required volumes may not be ready for distribution to all the delegates on Monday August 4, 2014"
He added the possibility was slim as external facilities needed to reproduce the volume required, were also not available from last weekend due to the long holiday.
The statement however noted that the change in resumption date may not affect other schedules already set for the eventual winding up of the four month Conference.
Following the Management's decision, the National Conference 2014 adjourned plenary session on Monday, July 14, 2014, while delegates were informed to reconvene Monday, August 4, 2014 to certify the draft report of the Conference expected to be assembled by its Secretariat within the recess period.
Short URL: https://www.africanexaminer.com/?p=15177