NCRIB Promises To Take Microinsurance To Grass Root
Business, Insurance
Monday, December 23rd, 2013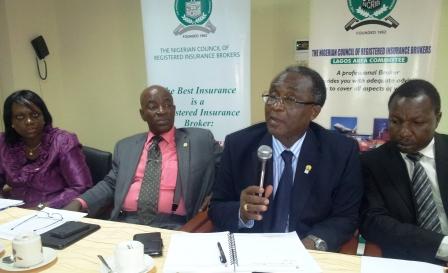 Kayode Adelowokan, Lagos
Following the recent unveiling of microinsurance business in Nigeria by National Insurance Commission (NAICOM), the Nigerian Council of Registered Insurance Brokers (NCRIB) has pledged its support to giving wings to the microinsurance initiatives to reach the grass root.
President of the council, Mr. Ayodapo Shoderu disclosed this on Monday during his inaugural media chat with members of the National Insurance Correspondents of Nigeria (NAICO) in Lagos.
Shoderu said his administration believe that if the industry must grow in Nigeria, emphasis and focus must shift to microinsurance in order to home in its multiple benefits to the insurance industry and the national economy.
In the same vein, the council president discredited the notion that Brokers have nothing to do with Takaful insurance. "Though Takaful insurance is associated with religious believe but who said Brokers will not support it sales. Whenever there is opportunity for it", he added.
"It is quite auspicious to inform you that the Council has identified other notable stakeholders such as Market Women Associations, Artisan Groups and Road Transport Workers' Employees Association for insurance awareness."
Shoderu also assured that the council would embark on well coordinated awareness campaign to educate the public on how they can leverage insurance to mitigate risks, adding that the spate of loss incur by the public is worrisome, stressing that the losses would have been mitigated if the people have insurance.
The NCRIB President stressed that the rate of building collapse and the consequential human and material losses usually recorded all over the country will reduce  considerably if States' legislature have in place laws compelling adherence to section 54 and 55 of the insurance Act.
He expressed woe over the contributions of the industry to the country's Gross Domestic Product (GDP), stressing that among besetting challenges that had stifled the industry's growth is limited public awareness and its services.
In a way to strengthen the industry, he said the Council intends to embark on lobby of States House of Assembles to promulgate edicts that will drive public compliance with some provisions of the insurance products covered under the insurance law.
He maintained that the Council will collaborate more effectively with National Insurance Commission (NAICOM) to harness its benefits to members.
Speaking on No Premium, No Cover, president of the Nigerian Council of Registered Insurance Brokers (NCRIB), Mr. Ayodapo Shoderu, said that the Council and NAICOM has reached an agreement and expects no complain from underwriters or Brokers, adding that the policy is a good one which is aimed at growing the insurance premium and penetration in the country.
He added that the Council will support all effort by the in ensuring the effective implementation of the policy.
Short URL: https://www.africanexaminer.com/?p=6384