News Analaysis: Nigerian Army Lacks Fund To Fight Insurgency
Featured, Latest News, Uncategorized
Friday, May 23rd, 2014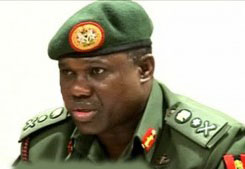 Oyewale Oyelola
The Nigerian Army since the declaration of state of emergency in three North East states; Adamawa, Yobe and Borno states has been criticized for not doing enough to fight Boko haram insurgency to stand still, while other alleged Military officers of aiding and abetting terrorism for selfish reasons.
Many Nigerians wonder how Nigerian soldiers who normally received commendation for their dedication, professionalism and zeal during peace-keeping operations outside the country are now falling cheaply to Boko Haram.
It would be recalled that soldiers mutiny in Maiduguri latest week led to the removal of the General Officer Commanding the 7th Infantry Division, Major General Abubakar Mohammed who officers alleged of not releasing sophisticated weapons which led to death of soldiers during confrontation with highly equipped boko haram fighter.
The head of the army's account and budget, Major General Abdullahi Muraina on Thursday however revealed that the army does not have access to enough fund to tackle Boko Haram insurgency.
General Muraina disclosed this in his address at opening of the 2014 training week of Nigerian Army Finance Corps for Warrant Officer/Senior Non-Commissioned Officers in Jaji, KadunaJaji, Kaduna State on Thursday.
He said it was urgent to review the army's financial constraints to enable the force to rise to the challenge of combating the spreading attacks of Boko Haram militants.
General Muraina in his analysis said: "The army budget for this year is just N4.8 billion. Assuming we committed 20,000 troops to the Northeast operations, the jacket and helmet is in the average of about $1,000. If you change that to naira, it is about N150, 000. If you now have about 20,000 troops, this means that they are going to spend about $20 million and that is about N3 billion.
"N3 billion as a percentage of N4.8 billion which is the capital budget for this year is more than 50 per cent and that is just one item. We are not talking about uniforms, boots or structures where they will stay. We are not talking about training, because training is key to enhancing the capability of the force."
He noted that budgetary allocation for the military is inadequate to meet the contemporary security challenges, adding Nigerian Army is enmeshed in the bureaucratic bottlenecks for the funding approvals for military operations.
He called for a review as the increasing speed at which the effects of conflict appear in the operational environment will continue to challenge commanders.
The general added that, "government should evolve other means of funding and supporting military operations than the normal budgetary allocation. Such means include but not limited to strategic cooperation and liaison with other civil industries for the production of uniforms and other equipment.
"We are not oblivious of the constraint on revenue generation and the fact that [the] government has so many other responsibilities, but we are appealing to the government to review the current template of funding of the military, considering the current security challenges."
Short URL: https://www.africanexaminer.com/?p=11687