Nigeria Customs Says It seized over N1 Billion Worth of Goods in 2013
Featured, Latest News
Wednesday, February 26th, 2014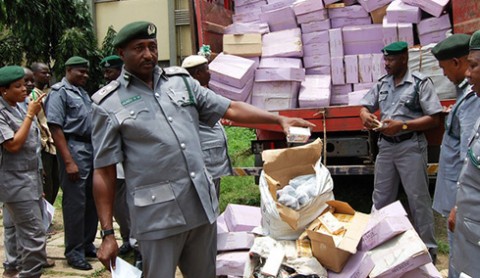 By Ruth Bamidele, Lagos
Nigeria Customs Service Zone 'A' Ikeja-Lagos on Wednesday said it seized goods worth over one billion Naira in 2013.
In a statement made available to African Examiner, the Unit's Public Relations Officer, Uche Ejesieme, stated that the Unit made a total of 3,553 seizures of assorted prohibited goods valued at N1,294,211,018 with a payable Duty of N227, 073, 983  with a DPV of 1,521,285,001 between January to December, 2013.
According to Ejesieme, the figure represents a significant improvement from the report of the preceded year (2012),
"Comparatively speaking, it accounts for over 50% in terms of the Duty Paid Value and other variables. It is important to state that consequent upon the ban on Rice Importation through the land borders, the command beamed its searchlight on some volatile areas, particularly along the waterways, which have been identified as flashpoints with a view to blocking all loopholes and supply chains."
"The same strategy was also adopted in the case of foreign frozen Poultry Products and all of these strategies provided the unit the necessary impetus to raise the standard of our anti-smuggling activities over the period.
"Recall that the Federal Government of Nigeria in its wisdom placed this ban on foreign frozen Poultry as a proactive measure to protect the investments of our local farmers who have invested heavily on Poultry farming and other Agro-allied Industries."
Among the landmark seizures made in the year 2013 are 1,273 of 50kg parboiled Rice totalling 65,563 bags valued at N327,815,000  with a Duty Paid Value of N360,596,500 , 399 seizures of foreign poultry products, totalling 59, 058 cartons valued at N225,493,000  with a Duty Paid Value of N270,591,600.
To produce a better result in 2014, Ejesieme said: "We have therefore; put all necessary measures in place for effective synergy with critical stakeholders including the host communities where we operate and other relevant security agencies for the actualization of our operational goals and objectives."
"We have in fact started reaping the result already, with the spectacular seizure of 3,997 cartons of suspected fake pharmaceutical drugs with 6 drums of fake multi vitamins valued at N5,850,000 with a Duty of N1,170,000  and a DPV of N7,020,000  at the beginning of the year 2014.
Short URL: https://www.africanexaminer.com/?p=8649