Nigeria'll Miss My Husband's Humility – Baba Omojola's Widow
Featured, Interview, Latest News, News
Tuesday, November 19th, 2013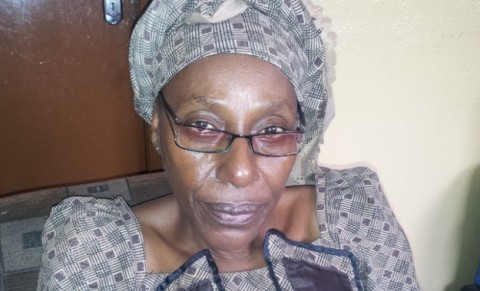 Hard-line academic and stoic nationalist, Comrade Adewole Babarinde Ajibola (also known as Baba Omojola) has been laid to rest. His memories, however, will not go unsung, people say. The widow of the late socialist and human rights fighter, Dr. (Mrs.) Yewande Ajibola, shared some untold stories in this interview with KAYODE ADELOWOKAN. Excerpt;
It is his humility.
What are his aspirations that he keeps talking about before he died?
His main aspiration is how Nigeria will be a better place for all. Anytime we are together because we always have our own special in-house political-socialist meeting i.e. himself and myself, we talk a lot about the situation of this country, downtrodden, the masses and being a Rotarian, we are for humanitarian services. His worries were how the Nigerian government will help the masses.
In those days, there were days Baba will not come home because of the issues of activism, how do you normally feel as a woman with kids at home?
Hmmmmmm! There were no much fear but during the military era, it was something else. Words alone cannot explain. In those days, my husband will say don't close the gate, emphasising that nobody will kill him and if they want to kill him, the gate cannot stop them. He will always be inside his study room working for what he knows best and that is Nigeria.
I am always happy because he is doing what he loves doing. You see, if my husband had been somebody that care for himself alone, he would have been a billionaire not a millionaire, at least, with his education background; from Ilesa Grammar School (1952 – 56), London School of Economics (1958 – 61) and Central School of Planning and Statistics, Warsaw Poland (1969 – 70). Instead, he spent all his money for the masses. My husband will always say, though he is not a wealthy person but he is a man of repute.
In his lifetime, he belonged to several pro-people organizations fighting for genuine independence and a JUST social and political order. Among which are: Movement for Popular Democracy (MPD), Socialist Revolutionary Vanguard (SRV), Socialist Party of Nigeria (SPN), Campaign for Democracy (CD), Movement for National Reformation (MNR), National Democratic Coalition (NADECO), Pro-National Conference Organisations (PRONACO), Eskor Toyo Centre, Comrade Ola-Oni Centre, Apapo Omo Oodua, June 12 Movement, Ijo Orunmila Ato (Indigene Faith of Africa), etc. just for the interest of the masses.
What do you think Nigerians will miss more about him?
For the labour movement, it is his honesty. He was always available for them anytime they call on him. I wish our labour leaders can emulate him and forget about all this riches on earth. Work towards the people, work for the people then, Nigeria will be a better place to be.
What is your take on the proposed national conference?
By God's grace and with the chairman of the committee, I know the conference will be a great success because my husband fought and he died for Nigeria. President Goodluck Jonathan has put every necessary tools in place and those in the National Assembly are not imbesile; they are educated people and to me, they know what is going on in the country; I am not there but I know they too are not happy with the situation of things in the country, they'll not want the country to break. We are all one Nigeria: Hausa, Igbo, Yoruba, we are not going to break because my husband always say that, we are not going to break. Nigeria will never break!
Short URL: https://www.africanexaminer.com/?p=5002