"Nigeria's Anti-Gay Law Is A Crime Against Reason"
Featured, Latest News, News
Saturday, January 18th, 2014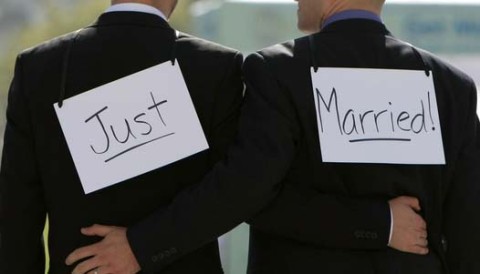 A  group of pro-gay Nigerians  have come together to condemn President Goodluck Jonathan for signing into law a bill that criminalizes homosexuality.
The group argued that homosexuality does not harm Nigeria but "it is the hypocrisy, venality, and corruption that pervade our society that are the source of our problems."
Their statement reads in full:
Months after it was passed in both the House of Representatives and the Senate, a bill that criminalizes homosexual relationships in Nigeria has been signed into law by President Goodluck Jonathan. The President gave his assent to the bill, which stipulates lengthy jail terms, both for same-sex marriage and public expression of same-sex intimacy, despite pressure from local and international social rights and public health advocacy groups.
There have been criticisms of the law in Nigeria, where antipathy towards homosexuality and LGBT people, stoked by a convenient alliance of the state, the clergy, and the rump of the mainstream media, runs deep.
We, the undersigned, wish to ally ourselves with these voices of reason. We unreservedly condemn the Same Sex Marriage Prohibition Law and urge civil society and human rights groups to start a campaign that we hope will soon result in its abolition. We also urge the eminent personages across the world who have condemned the so-called law to go beyond diplomatic gestures and put pressures on the Nigerian government wherever they can. Specifically, the United States and the United Kingdom should, forthwith, impose diplomatic sanctions (e.g., denial of visas) on all Nigerian functionaries, including journalists, the clergy, and policymakers associated with the passing of the law.
There are many reasons why every right-thinking person should oppose this law.
First, it is based on a spurious, uninformed and one-dimensional reading of 'African culture.' Second, it criminalizes a section of Nigerians for nothing other than their natural sexual inclination. Third, it ignores the fruits of many decades of scientific research which proves decisively that homosexuality is as natural as heterosexuality. Fourth, the law threatens to reverse the gains made by programs aimed at fighting the HIV-AIDS epidemic in the country.
Fifth, it is absurd in terms of the jail time it stipulates for those who associate with LGBT people. Sixth, it casts Nigeria in a bad light for no good reason, putting it in the vulgar company of other countries where homosexuality is criminalized. Seventh, it gives law enforcement agents an open check to go after innocent Nigerians in the name of upholding the law. Finally, the law impinges on Nigerians' freedom of speech and association, and expressly violates the rights of minorities in a free and democratic society.
It is not the business of any state, let along the Nigerian state, to interpose itself in the private affairs of two consenting adults. Any human act or practice that does not infringe on the freedom of others cannot and should not be criminalized. Homosexuality does not harm us as a society and people. It is the hypocrisy, venality, and corruption that pervade our society that are the source of our problems.
 Signed:
Ebenezer Obadare, Lawrence, Kansas, USA;   Akin Adesokan, Bloomington, Indiana, USA;    Wale Adebanwi, Davis, California, USA;  Lola Shoneyin, Abeokuta, Nigeria;  Jude Dibia, Lagos, Nigeria;  Jeremy Weate, Abuja, Nigeria;  Chido Onumah, Abuja, Nigeria;  Amatoritsero Ede, Ottawa, Canada;  Mojubaolu Olufunke Okome, Brooklyn, New York, USA;  Olufemi Taiwo, Ithaca, New York, USA;  Tejumola Olaniyan, Madison, Wisconsin, USA;  Ike Anya, London, UK;  Kunle Ajibade, Lagos, Nigeria,;  Moradewun Adejunmobi, California, USA;   Sean Jacobs, Brooklyn, New York, USA;   Adeleke Adeeko, Ilorin, Nigeria;   Olakunle George, Providence, Rhode Island, USA;  Wendy Willems, London, UK;   Ikhide R. Ikheloa, Maryland, USA;   Rudolf Okonkwo, New York, USA;   Jide Wintoki, Lawrence, Kansas, USA.
Short URL: https://www.africanexaminer.com/?p=7382