Nigeria's Problems Rooted In Ethno-Religious Intolerance -Fashola
Featured, Latest News, News
Tuesday, December 31st, 2013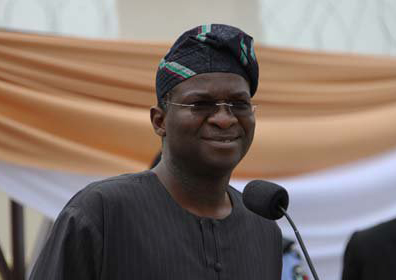 Ayo Balogun, Lagos
Governor Babatunde Fashola of Lagos State says the main problems confronting the Nigeria nation are rooted in ethno-religious intolerance and advocated unity of purpose among the citizens as a means to solve the nation's problems.
In his New Year message to Lagosians, Fashola said the problems currently bedeviling the country were mainly man-made and that such would only take an agreement among the people to resolve to remove the things they find unacceptable in the society.
According to him, the nation's problems, whether economic, social or political, were rooted in ethnic and religious intolerance, saying that the panacea lay in the belief by citizens in the Nigerian Project and the resolution to determine the kind of country of our collective dreams.
"Looking back at all that we went through in the past year, perhaps, the time has come for us all to take an introspective look at ourselves in an attempt to get to the root of our problems and challenges. The truth of the matter is that, whether it is the downturn in the economy or our worsening security situation, the challenges are traceable to ourselves", the governor said.
Fashola recalled, with nostalgia, the situation in the country in the early sixties when the citizens saw themselves as just Nigerians irrespective of tribe, tongue or religion, and declared, "We have, as a result of myopic self and group interests, created an octopus that is threatening to devour our collective heritage. That Octopus is embedded in the twin evils of ethnic and religious intolerance."
"Recently, I had the privilege of attending the Command Performance of "Kakadu, the Musical", and it reminded me of the Nigeria of the early post-Independence era when it did not matter where you came from. It is a story that we all must imbibe in order to recreate that glorious era when we were all Nigerians, though tribe and tongue and religion may differ. It is set against the background of a newly Independent Nigeria brimming with hope, dreams and expectations. So we have a reference base," he said.
He pleaded "that hope, dreams and expectations must not be lost, we must resolve this New Year to return to ourselves and give impetus to them. To do this successfully, we must begin to believe in Nigeria and the Nigerian Project once more. We must start by defining for ourselves the kind of future that we want. It is only when we agree on this that we can unite our efforts towards recreating the Nigeria of our collective dreams and make it come true."
The governor expressed his delight that the situation in Lagos had been that of religious harmony even in the midst of the challenges and difficulties that had bedeviled the country in recent times, adding that almost every family in Lagos has members of different Faith living together in harmony.
"In spite of the growing population of Nigerians of all Faith and ethnicity in this city, Lagosians have been able to define themselves and each other not by how they worship but who they are, how godly they are, how humane they are, how warm and friendly they are. It is a harmony that we do not intend to keep to ourselves alone but to share the essence with other states," he stated.
He thanked all Lagosians "for achieving this feat even in the midst of manifest intolerance and sometimes provocation", urging them, however, not to rest on their oars. "We must work very hard not only to keep it that way but to improve on it continually. Our modest success in the past years in transforming our dear State into a model mega-city in Africa has had its foundation on this peaceful and harmonious co-existence."
He promised that his administration would continue to make the people its focus by putting in place policies from which enormous advantages could be drawn for the people's benefit adding, "The policies and programmes such as the massive infrastructural renewal, Greening and Beautification as well as our investment in security and street lighting which we embarked on in the last six years have created thousands of jobs, both directly and indirectly, for our people.
"From these people-oriented programmes and many others, we have created new economies which were hardly there at the beginning. Night life and night economy, which had hitherto disappeared from our lives have been brought back", the Governor said pledging that the administration would continue on this trend till the end of its lifespan."
Wishing all Lagosians a prosperous New Year 2014, Fashola, however, advised, "I will only enjoin you to continue to play your parts as good and law- abiding citizens. Be vigilant and resist all attempts by detractors to distract us from our set goals. Our development plan encompasses the whole State and we will reach all parts    with the quality service which we believe that you deserve.
"In this brand New Year 2014, therefore, please let us continue to work together and pray for both our country and our dear State for peace, stability and let us continue to lead from the front in all that is right and worthy in this country and Continent."
Short URL: https://www.africanexaminer.com/?p=6668