No Cultists Will Govern Rivers State -Peterside
Featured, Latest News, News, Nigeria 2015 Election
Monday, March 16th, 2015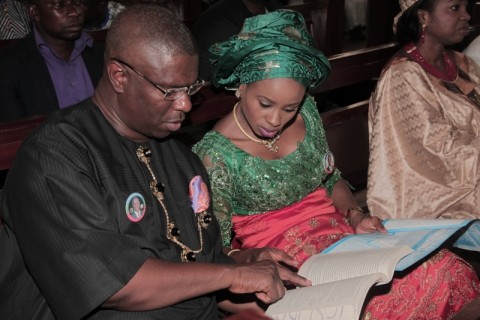 Dr. Dakuku Peterside, governorship candidate of the All Progressives Congress, APC in Rivers State has told members of St. Thomas Anglican Church, Diobu District, Port Harcourt that no man or woman with cult affiliation will govern Rivers State.
He said that Rivers is a state under God's banner, adding that it will be absolutely impossible for darkness to triumph over light.
Peterside made the statement at this year's Mothering Sunday. The APC candidate who was accompanied to the church service by his wife Elima, friends and well wishers called on the Church to run background check where necessary on contestants so that it will be easy for Christians to reject any candidate with links to anything that is not of God.
He said the office of governor is too important to be taken lightly, insisting that a predominantly Christian state like Rivers cannot afford to leave its affairs in the hands of anybody that is connected with the occult.
He pleaded with the congregation to look out for qualities like good breeding, consistency, competence, compassion, fear of God and peaceful disposition in whoever they decide to support, adding that four years in the life of a state is too critical for any form of experimentation. He drew attention to fact that even as the candidates' campaign; Rivers people already know those who are violent, aggressive, unaccommodating, troublesome, arrogant, insulting, unforgiving and uncompromising.
He said voters must be guided by these naked facts and be prepared to enthrone a God-fearing governor or risk the dire consequences.
"I can only speak for myself, others are free to defend themselves. I have never in my life-time joined any secret society or secret cult. I say this before the altar of God because your vote does not matter to me as much as my desire to please God.
"No man or woman with cult affiliation will be governor of Rivers State. The Almighty God will stop that person in the name of Jesus Christ. As Christians, we must reject those who trust in other powers because if for any reason, they succeed, they will not glorify our God, the Most High. They will boast, as they have been boasting about their earthly connection, that their god did it for them".
Peterside who congratulated the women, commended mothers for their roles at home and in the larger society, describing them as one of God's greatest gifts to mankind. He described this year's Mothering Sunday as another opportunity for both men and women to free themselves from poverty, ignorance, unemployment, strife, impunity, fear and violence.
But freedom, he insisted, comes with a price and responsibility. The starting point, he advised, is for people to locate their Permanent Voters Card and to prepare to vote for candidates who have plans. He said that this election is significant because the future of Nigeria and its people depend on it, therefore everybody must be involved.
Ibim Semenitari, Director, Communications
Short URL: https://www.africanexaminer.com/?p=22766