Non-Oil Sources Contributes 70 Percent of FAAC June Sharing – FIRS Boss, Fowler
Featured, Latest News, News Across Nigeria, News From The State
Monday, July 25th, 2016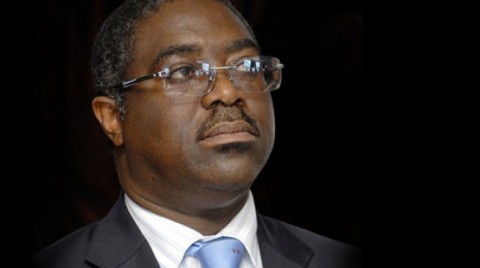 Ayodele Afolabi, Abuja
OGUN, NIGERIA (AFRICAN EXAMINER) – Executive Chairman, Federal Inland Revenue Service (FIRS), Tunde Fowler has explained how the Federal Government (FG) raised over N500 billion allocated at the Federal Accounts Allocation Committee (FAAC), in June.
According to him, a total of 70 percent came from non-oil sources while only 30 percent came from oil sources. It was the first time in 2016 that the Federal Government shared over N500bn among the three tiers of government during the FAAC meeting.
Fowler stated this on Monday in Abeokuta, the Ogun State capital, when JTB Chairman, led 36 state Chairmen of the State Boards of Internal Revenue (SBIRs) to the Governor's Office in Abeokuta.
He said, "We are proud of the development and we tell ourselves that this is the time to fund the budget of the Federal Government from non-oil sources", Fowler said.
An elated Ogun State Governor Senator Ibikunle Amosun, who came to declare open the 135th Meeting of the JTB at Park Inn hotel told the FIRS Chairman: "Whatever you, Customs and others did last month that ensured that we ( Federal, States, shared over N500 billon at FAAC—(the Federal Accounts Allocation Committee.), please continue to do it. It is good for the Federal Government. It is good for States. It is good for Local Governments. It is good for the nation".
Fowler noted that FIRS tax revenue collection is seasonal, but a combination of massive new taxpayer registration drive, tax education and engagement through the establishment of the Federal Engagement and Enlightenment Tax Teams (FEETT), audit of five key sectors: banks and the financial sector, aviation, power, telecoms; oil and gas is beginning to yield result. He said that FIRS has also added over 700,000 new corporate accounts since he assumed office.
Nigeria, he said has a cumulative figure of 10 million registered taxpayers if you add the number of taxpayers of States Boards of Internal Revenue and the FIRS. JTB, Mr. Fowler said has given itself a target to register at least 10 million additional taxpayers by December 31st 2016.
"We have commenced tax enforcement too. We are happy that the efforts of the FIRS in collaboration with revenue stakeholders are already yielding positive result.
The FIRS Chairman said the agency and the SBIR identified collaboration to register more taxpayers, across States, data sharing, exchange of information, joint audits to improve efficiency and tax yields from audits, capacity building through joint training programmes and exchange of personnel.
Fowler saluted the Ogun State Governor for being the first State Governor to approve FIRS' request on another automated deduction and remittance of Value Added Tax (VAT) and Witholding Tax, from the point of payments to contractors in states.
Said Fowler: "Pursuant to implementing the collaboration framework, FIRS requested for an approval of State Executive Governors to allow automation of the process of payments on taxable transactions to enhance the deduction, at source, particularly of Withholding Tax and Value Added Tax.
"It is important to note and acknowledge that the Executive Governor of Ogun State was the first to acknowledge and approved the implementation of the process. I thank His Excellency, Senator Ibikunle Amosun, for demonstration of his total support towards our effort of making the Nigerian tax system efficient".
Fowler also praised Governor Amosun's efforts on Internally Generated Revenue (IGR) and in transforming the State's Board of Internal Revenue: "We have come to basically discuss the issue of revenue. We monitor the performance of every State and we appreciate the excellent revenue performance of Ogun State. Ogun State is Number One.
"It is on record that the State annual IGR grew by 50 per cent in the year 2015 thereby making the Ogun State occupy the 4th position in performance collection rating of States and first in IGR growth. I therefore urge the Service not to relent in IGR efforts and continue to work hard to justify the encouragement received by the State Government.
Governor Amosun said there is possibility of the FG to generate more if everyone is determined to explore other sources of revenue apart from oil.
"It has come to a point we should say, okay, let us leave oil aside. Let us face non-oil sources. This is the first time in the recent times, the Federal Government shared the excess of N500 billion and 70 percent of that sum came from non-oil sources. That means that we can do more if we are determined. All hands must be on deck to grow our tax revenue. We must find a way of bringing the rich people into the tax net."
Amosun, who declared the JTB meeting open said although States like Ogun and Lagos are doing well in terms of IGR, yet, would not say that all is well until others States are able do same.
"Yes, Ogun State can pay salaries as at when due and we have been able to do some projects. We did not depend on the Federal Allocation to do that. However, we must continue to work together with the Joint Tax Board till every State will be able to pay salaries and be comfortable"
JTB is an umbrella body for the States and Federal tax authorities in Nigeria and was established in 1961 to promote uniformity and harmonization of Personal Income Tax Administration across the country.
Short URL: https://www.africanexaminer.com/?p=34480