NSA Dasuki Under Attack Over Call For Election Postponement
Featured, Latest News
Thursday, January 22nd, 2015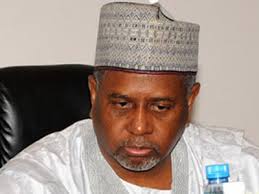 *APC Says "It Depicts Fears In PDP Camp"
Ayo Afolabi, Lagos – Again, the opposition All Progressives Congress (APC) has rejected call by the National Security Adviser, Col. Sambo Dasuki, on the postponement of February general elections on the excuse to give INEC more time to distribute all Permanent Voters Cards (PVCs).
The rejection was made Thursday, in a statement issued in Abuja by the party's National Publicity Secretary, Alhaji Lai Mohammed.
APC posited that the call by Col. Dasuki, during an event at the Chatham House in London today (Thursday), has exposed the hitherto clandestine plot by the Jonathan – led administration to push for the postponement of the polls, using all sorts of cheap tricks.
The party said: "Now that we have found the smoking gun, we are urging the international community, in particular, to urgently extract a commitment from President Goodluck Jonathan that the elections will hold as scheduled next month, and that he would respect the outcome".
APC established that Col. Dasuki was only seeking to buy time for the slugging Jonathan electioneering campaign to gather steam by hinging his postponement call on the delay in PVC distribution, adding: "They know for sure that if they don't postpone the elections, there is no way they can win. They are just terrified."
The party also called on Nigerians to reject in its entirety the ongoing orchestrated plot by the Jonathan's Administration to postpone the elections, saying the constitutional crisis that would be triggered by such postponement was capable of undermining the nation's democracy.
Government Should Not Tinker With Election Time Lines –Atiku
Also, Former Vice President and chieftain of the All Progressives Congress (APC), Atiku Abubakar has said that the general elections in the country should hold as scheduled next month, and that government must not tinker with the option of postponing the timelines for the elections.
"Yes, we have a problem with the distribution of PVCs but the position of my party, the APC is that since we have a voters' register then that should be used in conducting the elections. I also believe there is enough time between now and the elections to issue everyone with their PVCs," Atiku said shortly on arrival to the country.
The former Vice President, who landed at the Nnamdi Azikiwe International Airport on Thursday after a medical vacation trip, said the call made by the National Security Adviser, Col Sambo Dasuki, for a postponement of the elections as scheduled next month, was uncalled for and portends a dangerous signal about the intentions of the Federal Government to conduct a free, fair and credible poll in February.
Short URL: https://www.africanexaminer.com/?p=21858