Oduah's Sack Spark Jubilation In Aviation Industry
Featured, Latest News
Thursday, February 13th, 2014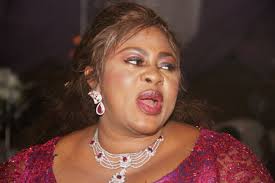 Ruth Bamidele, Lagos
The aviation industry was on Wednesday thrown into a frenzy of excitement as the aviation minister, Stella Oduah was booted out of the ministry.
The President of Aviation Round Table, (ART), Capt. Dele Ore, said Ms Oduah's sack was a good news even as he congratulated President Goodluck Jonathan for the bold step that he has taken.
Capt. Ore noted that the development should be used to re-position the aviation sector in the right track as this would help in protecting the category one status of the country.
His words: "That is good news, I congratulate President Goodluck Jonathan for the bold step he has taken though it is belated but it is a welcomed development.
"Now that the minister has been sacked this is the time to bring aviation back to the right track. We hope it is not too late to protect our category one status, which is been threatened.
"We expect that the new person who will be coming will improve upon and correct several errors that has been committed in the process of this transformation agenda" he said.
Deputy General Secretary, Air Transport Services Senior Staff Association of Nigeria (ATSSSAN), Comrade Olayinka Abioye also commended President Goodluck Jonathan for the bold step, saying Nigerians have been given a valentine gift.
Comrade Abioye further noted that the former minister's tenure was full of irregularities, adding that she always disrespected the unions all through her regime.
According to him, all the airport remodeling and upgrade of facilities did not follow due process asking that at what cost were the airports remodeled and where was the funds that was used for the remodeling project came from.
He also noted that most of the agencies were tasked to partake in the remodeling project explaining that the Nigerian Airspace Management Agency (NAMA) was asked to purchase passenger and electronic counters which was not part of the responsibility of the agency.
Comrade Abioye said "We will remember Stella Oduah for so many things, during her reign, we saw things happened, all the remodeling projects and upgrade of infrastructure, do they follow due process? the answer is no, are the stakeholders carried along in this process the answer is no, were proper materials used in the buildings and the structures, the answer is no, does FAAN who is supposed to be the supervisor is in the know of several of these things, the answer is no"
"President Goodluck Jonathan has just given Nigerians a valentine gift by the removal of Stella Oduah, however painful it may be, we will cherish this gift."
Short URL: https://www.africanexaminer.com/?p=8243