Oil Wells Dispute: Amaechi Accuses Kalabari Monarch of Betrayal
Featured, Latest News, News
Wednesday, January 1st, 2014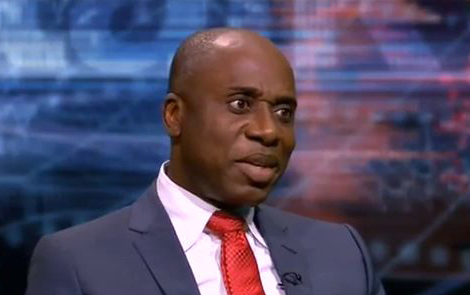 Rivers State Governor and Chairman of Nigeria Governors' Forum, Rt. Hon. Chibuike Rotimi Amaechi, says the position recently expressed in public by King Disrael Gbobo Bob-Manuel, the Amanyanabo of Abonnema, over disputed oil wells in Soku of Akuku Toru local government of the state amounts to "betrayal of his people."
Bobmanuel had reportedly expressed "satisfaction" with the way President Goodluck Jonathan was handling the Soku oil wells' dispute between Rivers and Bayelsa States.
The paramount ruler had expressed this position  on Monday when Bayelsa State Governor, Seriake Dickson, visited him in Abonnema. Dickson was accompanied on the visit by Mr .Ezebuwon Nyesom Wike, the Supervising Minister for Education and some of his party loyalists.
Governor Amaechi, speaking on TODAY 95.1FM, the premium talk/news radio station in Port Harcourt on Wednesday, said he was disappointed with King Gbobo Bob-Manuel's comments.
In condemning the monarch's position, Amaechi said the response by the Abonnema monarch conflicted with his government's efforts and Kalabari people's desire  to ensure that resources of the state were not whisked away to other states.
"There is an attempt by the Federal Government to undermine the development of Rivers State.  I did enumerate the fact that everybody is talking about Soku oil wells but, there's also Etche where they took 41 oil wells from Rivers State and passed onto Abia.  They want to impoverish Rivers State and I can't be governor and you expect me to keep quiet.  So not just Soku alone, it is also the fact that they have taken the oil wells in Etche," Amaechi said.
The Rivers State Governor also said, "I hear my colleague, the Governor of Bayelsa State, came to Abonnema the other day and the Amanyanabo of Abonnema received him and said he was satisfied with the way the president is handling the oil wells (dispute).  For me, that is a betrayal of his people and he is supposed to be a king in Kalabari kingdom and he said he is satisfied that the federal government has taken the oil wells and that Bayelsa is receiving the money. And a king in Abonnema is saying he is satisfied.  It is not about me, it is about the Kalabari people. It is about the Rivers people.
"Instead of the king to tell him(Bayelsa Governor) 'look, our people are not happy that the oil wells have been taken, return it'…..and I have told the president if you return the oil wells, I will support you, but he can't.   I even told them that if you think it would empower me as a governor, keep the money in an escrow account because the money was first and foremost in an escrow account, because they became president they went to the escrow account and took the money.  Keep the money in an escrow account, after my tenure let them give the money to the next government but what I want to see done is the fact that our resources are returned to us."
He recalled that he held several meetings with the President on resolving the Soku oil wells' dispute, but that the president's unwillingness to act on the issue without bias collapsed the negotiations.
Amaechi, however, vowed to protect and defend the interests of the people in Soku as well as those in other parts of the state.
"The question you should ask is that, is it correct that the oil coming from Soku have been appropriated by the Federal Government and given to Bayelsa? I have been saying this for the past two years, why haven't they denied that?  There is nothing that I have said that they have responded to.  Instead of responding to it, they will be abusing me.  Is it a lie that they took Soku oil wells to Bayelsa? Is it a lie that they also took the 41 oil wells from Rivers to Abia?", he queried.
"There is nothing I am telling you in public I have not told the President in private.  The only reason why I am in public now is because he has refused to do anything. I would like to quote the response he (President Jonathan) gave to the Kalabari people when he met with them and I was there.  The President said 'oh, you people call it Soku, we call it Oluasiri'.  When he said 'we call it..', what does he mean?  It means that he has taken sides.  You know, the President is not supposed to take sides. He didn't say 'Rivers people call it Soku, Bayelsa people call it Oluasiri'. If he said that, then we would say okay, he is at the centre too, we can discuss this.  He said 'you people call it Soku, 'we' call it Oluasiri'. Already, that shows the judgement has already been given.
"Now, in their submission in court and the letter they wrote Rivers State Government, they did acknowledge that it was a mistake that in the course of the drawing of that map, they drew Soku into Bayelsa and then we complained against it because it was sent to us to review and make our submissions.  Our response was 'no, no, you have made a mistake."
"You have just taken our community into Bayelsa.  They replied that they have already released this map and that it is unfortunate that they have and it was a mistake that they would correct in the subsequent edition.  And they have not been able to make that correction and when they say they want to invite us to a meeting, I say 'what are you inviting us to a meeting for?  You have already acknowledged that there was a mistake, go and correct the mistake.  If Bayelsa has any complaints, then put the complaints on the table after you have corrected it".
Governor Amaechi disproved claims that he had personal misunderstanding with President Jonathan, explaining that had he any misunderstanding with the president, it was over the interests of Rivers State.
The Neighbourhood
Short URL: https://www.africanexaminer.com/?p=6696