One Dead, Many Injured as Car Rams into Pedestrians in Times Square
Latest News, U.S./Canada, World News
Thursday, May 18th, 2017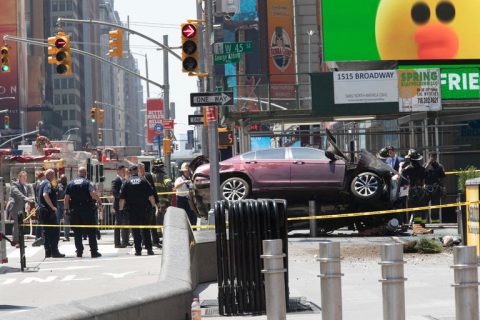 One person was killed and about a dozen were injured when a car struck pedestrians in New York's Times Square on Thursday at about noon, according to the Fire Department.
The driver appeared to have been either drunk or on drugs, a law enforcement official said. He has a history of DWI arrests, the official said.
The conditions of the people injured were not known, a spokeswoman said.
A Police Department spokesman said the driver of the car had been taken into custody.
A maroon Honda Accord sat tilted on a bollard in Times Square, its right wheels off the ground on the northwest corner of 45th Street and Broadway. Its front hood was crumpled and its trunk was open. Detectives and investigators surrounded the car. NYT
Short URL: https://www.africanexaminer.com/?p=39313