Online Crimes Pose Threat of Cyber Terrorism –Dasuki
Crime Watch, Latest News
Thursday, June 19th, 2014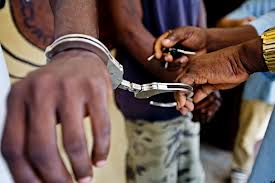 The National Security Adviser, Sambo Dasuki, has said that rising cases of cyber crime pose threat to national security.
According to him, Nigeria faces a threat of cyber terrorism if proactive measures were not taken against online criminals.
Dasuki made this known in Lagos on Thursday at the First National Cyber Security Forum held at the Eko Hotel and Suites, where he was represented by the Permanent Secretary, Special Services, Alhaji Ibrahim Mahe.
He said, "Cyber crimes are generally non-violent crimes, yield high profits and have relatively low risk of capture. Incidents of cyber crime have caused extensive loss to the national economies and pose challenging threats of cyber terrorism among nations."
He said, realising the importance of cyber space, the Federal Government had designated cyber security as a national security priority with the Office of the National Security Adviser   stepping up efforts towards meeting the challenge by working in close collaboration with all stakeholders to ensure a safer and more secure cyberspace.
He explained that experiences from other jurisdictions had shown that the success of national cyber security initiatives could best be achieved by adopting a coordinated and integrated approach encompassing law, technology, institutional capacity building, private sector partnership and international law enforcement cooperation.
He noted that computer and the Internet represented modern tools used by criminals and the trend would continue for some time because of the fact that cyber crimes were particularly lucrative.
Also giving an overview of the Draft National Cyber Security Strategy in Nigeria, the Director of Communication, Office of the National Security Adviser, Ambassador Haruna Wando, said the growth of computer technology in Nigerian businesses and personal lives had brewed more computer-based crimes originating from Nigeria or aided by Nigerian citizens around the world
Short URL: https://www.africanexaminer.com/?p=13014