"Opeyemi Bamidele is Unfit To Govern Ekiti"
Featured, Latest News, News
Tuesday, December 3rd, 2013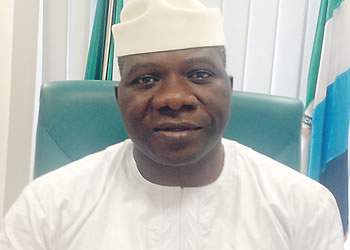 Kayode Adelowokan, Lagos
The All Progressives Congress (APC) in Ekiti has described the eventual exit of Honourable Michael Opeyemi Bamidele, a.k.a MOB, representing Ekiti Central Constituency 1 in the House of Representatives in Abuja, as a welcome development by the party and the entire people of the state.
The party disclosed this in a press statement signed by the Director of Publicity and Media of APC in Ekiti, Segun Dipe, made available to africanexaminer.com on Tuesday, December 03, 2013, observed that Opeyemi is puerile, of unsound mind, not fit to govern an upwardly mobile state like Ekiti and as such could not have realized his ambition within the party.
The statement also said of Honourable Bamidele, is free to join any party where he can continue to nurture his mobster ambition as a vain labourer.
According to the statement, "Just like Macbeth, Opeyemi Bamidele, has premised his governorship ambition on some prophesies. And just like Macbeth, he is ever willing to maim and kill to achieve his vaunting desire. He has been living a lie all the while. He has been busy dishing out fables as facts, without minding whose ox is gored, and without any recourse to the party, which gave him the opportunity to rise to the level he finds himself, including the one he is presently occupying in Abuja."
The statement recalled how MOB had lied in the various interviews he fielded in the media, especially his claim to have practically dragged the incumbent governor of the state, Dr. Kayode Fayemi, from PDP to then AC and how he, Opeyemi Bamidele, personally introduced the governor to Asiwaju Bola Ahmed Tinubu in 2006. The party believed such lies could only have come directly from the pit of hell through someone who desires power at the devil's cost.
Both Asiwaju Tinubu and Dr. Fayemi had known each other and worked together way back in the early 1990s when they were both involved in the pro-democracy struggles. Whenever the story of Nigeria's political activism is told, the name of Governor Kayode Fayemi is constantly mentioned and placed in the front burner as against Opeyemi's claim to infantile activism. This is in the public domain.
"Governor Fayemi never joined PDP or any other party before joining the Action Congress. Apart from his role within the human rights and pro-democracy community, Governor Kayode Fayemi brought the DFID to Ekiti during the era of Otunba Niyi Adebayo, between 1999-2003. Opeyemi was by that time a commissioner in Lagos State for 9 years and we cannot remember what positive development he brought to Ekiti."
"Our party's position is that while Hon Bamidele is qualified to contest for the governorship seat like anyone else and while he is free to realise his dream on any platform of his choice as provided for by law, he is not the kind of governorship candidate APC will want to present to the good people of Ekiti. He is grossly incompetent to govern Ekiti State by our party's parameter and that of the now discerning Ekiti people. Opeyemi has just completed two out of the four years assignment at the House of Representative in Abuja and he has yet to give the party his report. The incumbent, Dr. John Kayode Fayemi is our tested and trusted choice.
"He became our party's governorship candidate through internal democracy and has since raised the bar of governance beyond the feeble reach of the likes of Opeyemi Bamidele whose only stock in trade is giving individuals peanuts to draw them away from the truth. Now that they know what such power is worth, they think if Fayemi could do it, they also could do it, forgetting that trajectories differ. Opeyemi and his ilk should remember that God does not necessarily use the qualified, but would rather qualify those he uses."
"Here is a person who cannot be trusted with any private matter. He is not a team player and he prefers to be served than to serve. He would rather stay outside and haul stones inside his family house. He has made himself available as a willing tool in the hands of the enemy. What name should we call such a person? Opeyemi as an epitome of deception and feudalism is only good at giving peanuts to individuals, attempting to buy their conscience, instead of committing his resources to lasting projects for the benefit of majority like other leaders. This is no longer permissible in Ekiti.
"Ekiti people at this juncture abhor deception, they abhor autocracy and they do not want to serve anyone, rather, they want to be served by a well-meaning person who understands their needs and selflessly would do them."
"MOB's claim to fishing Gov Fayemi out is a complete lie. He is not a man that can be saddled with an integrity search. Trust Opeyemi, if indeed he had had such an opportunity to single-handedly make someone a governor as he claimed, the person would have been himself. But this in itself would have violated the political configuration of the state. His Local Government Area, which is Irepodun/Ifelodun, had produced three governors in the past, with two from his home town, Iyin Ekiti. Most importantly, change just for the heck of it cannot be sold to the people who are still enjoying the dividends of democracy being served by our party through Dr. John Kayode Fayemi's administration."
"Opeyemi is suffering from Delusion of Grandeur, coupled with Selective Amnesia. He has the size of a mature man but the brain of a child," the statement hinted, adding that the man who had been sent on a 4-year errand by the party only to turn back midway and start aiming for a higher, more challenging task, even when he had delivered nothing good from the first task, only deserves the pity of all.
Short URL: https://www.africanexaminer.com/?p=5549