Osinbajo Vows Killers of Benue Catholic Priests Will Be Punished
Latest News, News Across Nigeria, News From The State
Tuesday, May 22nd, 2018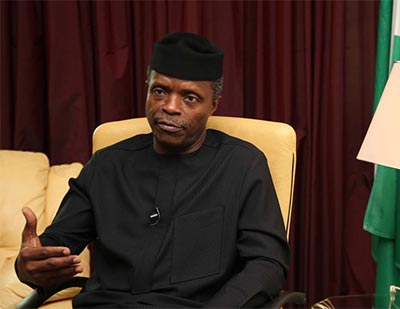 BENUE, NIGERIA (AFRICAN EXAMINER) – Vice President Prof. Yemi Osinbajo has assured the people of Benue that the killers of the two catholic Priests; Rev Frs. Felix Tyolaha and Joseph Gor and 17 other parishioners recently killed by gunmen during a church service at Saint Ignatius Parish, Mbalom, will not go unpunished.
Osinbajo gave the assurance Tuesday at Ayati, a small hilltop village situated on the outskirts of Ikpayongo, in Gwer East Local Government Council, during the burial of the victims of the April 24 church attack.
The VP who was accompanied on the trip by Ministers, top ranking politicians of different political shades, expressed the Federal Government FG's commitment to end the attacks.
He said the perpetrators of such dastardly and heinous crimes did not deserve to live amongst decent people but prayed for the conversion of their souls.
Benue State Governor Samuel Ortom in his speech condemned the incessant attacks on communities in the state, but commended the FG on its efforts to stop the killings.
He disclosed that 492 people had died from herdsmen attacks since the beginning of the year.
The Governor regretted the attacks on the church and wondered the reason for the attack saying, " these people were in the church and not on their farms; by this act, they gave their narrative to include other motives".
He called on the FG to arrest the killer-herdsmen, saying" we know our killers but they are not arrested or invited for interrogation; they have stated at several fora that they would reclaim their land."
The Governor said the Anti-Open Grazing law passed by the state assembly and accented by him, was the best way in curbing incessant clashes between herdsmen and farmers in the country.
On his part the Tor Tiv, His Royal Magesty, Prof James Ayatse, placed on curse in the perpetrators of such dastardly acts, saying " they will not see good times".
He, however, warned against reprisals urging residents not to lose faith in their God who would fight for them.
The paramount ruler commended the Catholic Church for restraining their members against reprisals and said the style was of the Lord.
A cross section of the Bishops that spoke at the burial, called on the government to ensure the killers were brought to book.
Bishops from Sokoto, Bauchi, Enugu, Nsukka, Gboko, Kaduna, Lafia, Jos, Shengdan, Otukpo, Katsina-Ala attended the burial.
The corpses of the Mbalom church attack were laid to rest at about 2:45 p.m./ NAN
Short URL: https://www.africanexaminer.com/?p=44041