OSUN 2014: Omisore and Others Battle For PDP Governorship Ticket
Latest News, News, osun election 2014, Politics
Monday, March 31st, 2014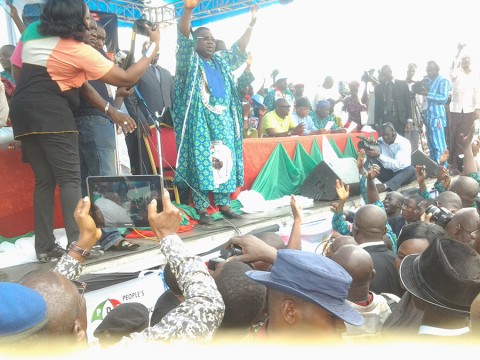 Oyewale Oyelola
Osun State Peoples Democratic Party (PDP) are currently in the state of dilemma over the best way to choose the party flag bearer for 2014 governorship election in the state of Osun.
The tenure of incumbent Governor, Ogbeni Rauf Aregbesola would end in November, 2014. Aregbesola was declared winner of 2007 governorship election by Court of Appeal sitting in Ibadan in November, 2010 after almost three years of legal battle between Olagunsoye Oyinlola led PDP and All Progressives Congress (APC).
Four prominent and experienced members of Osun State PDP are aspiring to get the governorship ticket in Osun State. The aspirants are Senator Iyiola Omisore, one term deputy governor of Osun State and two term Senator who represented Osun East Senatorial district at upper chamber, first civilian governor of the state, Alhaji Isiaka Adetunji Adeleke, Senator Olasunkanmi Akinlabi represented Osun West Senatorial district at the senate between 2003 and 2007 and served as Minister of Youth development during Yar'adua/Jonathan administration and Mr. Oluwole Oke from Ilesa.
All the aspirants are mobilizing their support across the 30 local government areas in the state. Political analysts said all the four aspirants are qualified to occupy Abere government house come 2014.
Senator Iyiola Omisore, the Ife born politician is one of the leading aspirants in PDP. Omisore has been eyeing the governorship seat since 1997 under defunct UNCP during Sani Abacha military rule while he also tried his luck in 1997 under the platform of Alliance for Democracy (AD). He loses the governorship ticket of AD to Chief Adebisi Akande with the support of late Bola Ige but was compensated with Deputy Governor Slot.
Ife born politician who recently completed his PHD programme in Engineering from a university in Germany, however fall out with Chief Bisi Akande and former Attorney-General of the Federation during his tenure as Deputy Governor. The foist relationship between him and his boss led to his impeachment in 2002 by Osun State House of Assembly.
He was later arrested in connection with the murder of late Attorney- General of the Federation; Chief Bola Ige who was killed by yet to be identified gunmen in his Bodija residence on December 23, 2001. Omisore, a grassroots politician won 2003 Osun East Senatorial District election from Agodi prison yard and served till May, 2011 before he was defeated by Babajide Omoworare of Action Congress of Nigerian on his bid to return to Senate for third term.
The Apesin of the source served as Chairman, Senate House Committee on Appropriation and Budget for four years. Political observers in the state believe Omisore might emerge as PDP governorship Candidate in 2014.  They said his cordial relationship with Governor Olusegun  Mimiko of Ondo State, who is the only Labour Party governor out the 36 states is currently in good book of President Goodluck Jonathan. Political watchers said his influence would for Omisore, he recently accompanied Omisore to Osogbo to get Rotract Award of Excellence. The engineer turned politician also controls the party structure; he was instrumental to emergence of Alhaji Ganiyu Ola-Oluwa as party Chairman.
Alhaji Isiaka Adeleke, the first civilian governor of Osun state represented Osun West Senatorial district at the senate between 2007 and 2011. He recently joined the race on account of President Jonathan's support and backing of PDP elders in south west. According to Adeleke popularly called SERUBAWO by his followers said the victory of PDP is 80 percent certain if the party present him as the flag bearer.
Another Aspirant is Senator Olasunkanmi Akinlabi, he hails from Ode-Omu and represented Osun West Senatorial District from 2003-2007 under the platform of PDP. He also served as Minister for Youth and Sports between 2007 and 2011.
Akinlabi was quoted as saying, "I believe that out of the lot that have come out to show interest in the governorship of Osun State, I am the most qualified. I served this country in the highest lawmaking body, that is the Senate and also in terms of executive experience, I served this country as minister between 2007 and 2011."
The Former Minister just concluded his sensitizations and mobilization tour to 30 local government areas of the state. Stakeholders in the party describe him as loyal party member who always honour party decisions, he step down for Senator Isiaka Adeleke to run for senate on instruction of party leaders.
Hon. Oluwole Oke is the youngest among the PDP aspirants in the state. He feels 2014 is the time to give young minded technocrat a chance to led Osun State to promise land. Oke represented Oriade/ Obokun Federal Constituency in the House of Representative from 2003-2011.
Meanwhile, Osun State PDP has denied endorsement of any of the four aspirants by the party leaders. The party insisted that primary election would be conducted to choose party flag bearer when INEC release guidelines for the election.
Osun State PDP Chairman Ganiyu Ola-Oluwa in chat with NEWSPEG correspondent said, "Presently we have four qualified and experienced aspirants in PDP running for 2014 governorship election. We have informed them that the party would conduct primary election and we expect all aspirants to mobilize their supporter across the state for primary election of our great party."
"Osun State PDP has not endorsed any of the four aspirants. We don't want to have issue with INEC again. We will conduct primary election as soon as INEC release their guidelines. Look at the current challenges the party is facing at national level due to failure to adhere to INEC rules in election of National Executive Council." He affirmed.
The State Chairman confirmed that the party would and supports any of aspirants that emerge at the primary election. Osun State PDP primary election will on April 5 in Osogbo the state capital.
Political analysts however said it will be not easy job for any aspirants that emerge as PDP governorship candidate to defeat Ogbeni Aregbesola with 25 House of Assembly members and 30 Local government Caretaker committees from APC in August 9, 2014 governorship election in Osun state.
Short URL: https://www.africanexaminer.com/?p=9694