PDP, Ebonyi Youths Accuse Governor Elechi Of Masterminding Assembly Fire Incident
Latest News, News, News From The State
Friday, February 27th, 2015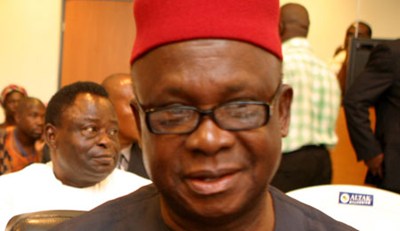 FROM IGNATIUS OKPARA, Abakaliki – Ebonyi state chapter of the Peoples Democratic party, PDP has accused the embattled Governor Martin Elechi of masterminding the recent burning of the state House of Assembly Complex.
The accusation is coming less than 24 hours after over 3000 youths in the state staged a protest on Thursday on same issue in Abakaliki, the Ebonyi state capital.
Both the PDP and the youths alleged that the motive for the burning of the building was to destroy corruption evidence against the state government.
Campaign organisation of the PDP governorship candidate in the state, and incumbent Deputy governor, Dave Umahi, said the Assembly complex was burnt because members of the House are in possession of documentary evidence that would aid their investigations of alleged financial misconduct by some government officials who were billed to appear before the House the day the place was set ablaze.
Operating under the name Divine Mandate Campaign Organization, (DMCO), the Umahi, group, insisted that Governor Elechi has questions to answer on the issue.
Though, Governor Elechi, had said the cause of the inferno could only be ascertained through investigations by the appropriate authorities.
But the DMCO, in a statement signed by its Deputy Director-General and Director, Media and Publicity, Dr. Hyginus Nwokwu, and Chief Abia Onyike on Thursday insisted, that the attempt to burn down the Assembly complex couldn't have been carried out by "ordinary criminals but by those emboldened and financed by a duplicitous government and offered cover by a drowning Labour Party".
"The Divine Mandate Campaign Organisation is compelled to draw the attention of the Inspector General of Police, the National Security Adviser, the Department of State Security and other relevant security agencies to the escalating and widening circle of violence, intimidation and terror which has been unfolding in the state ever since the Labour Party was introduced into the state polity by one Edward Nkwegu in collaboration with the government of Ebonyi State".
The statement however,reaffirms the state PDP resolve to ensure the reelection of President Goodluck Jonathan, the election of Umahi, as the next governor of the state no matter the amount of arson, violence and intimidation.
It also called on security operatives to tackle the crisis in the state urgently before those it called desperate politicians set the state ablaze.
The youths had during the alleged sponsored protest, converged in front of the government house, singing and asking governor Elechi, to desist from further sponsoring of crisis in the state.
Short URL: https://www.africanexaminer.com/?p=22461