PDP to Oyegun: Ekiti is no go area for APC
Featured, Latest News, News Across Nigeria, News From The State
Tuesday, March 20th, 2018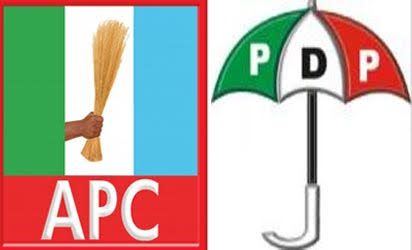 (AFRICAN EXAMINER) – The Peoples Democratic Party (PDP) in Ekiti State has told the National Chairman of the All Progressives Congress (APC), Chief John Odigie Oyegun, to perish the thought of his party making any impact in the July 14, 2018 governorship election not to talk of winning.
State Chairman of the APC, Chief Gboyega Oguntuase, who reacted to statement made in Ado Ekiti on Monday by the APC National Chairman that the forthcoming July 14, 2018 Ekiti governorship election was a must win for the party and that every available resources will be deployed to win the election, said "If Oyegun believes that the federal government instruments can be used to manipulate the election in favour of the APC, Ekiti people are well prepared to resist the party and its rigging plot."
Addressing journalists in Ado Ekiti on Tuesday, Oguntuase called on the International Community as well as Civil Society Organisations (CSOs) in the country to "focus their attention on the processes
leading to the conduct of the Ekiti governorship election so as to ensure that the Independent National Electoral Commission (INEC) conducts an election that truly represents the will of the people."
The Chairman said; "Every single APC member here in Ekiti knows that the party is nowhere near any chance of winning just one out of the 16 local councils in the State.
"The only thing they have been saying is that Governor Ayodele Fayose has been giving President Muhammadu Buhari problems and he (Buhari) has vowed to go to any length to take Ekiti from the governor so as to serve as a payback for his persistent criticism of the President.
"To us in the PDP, we can begin to draw correlation between the yesterday's 'we must win the Ekiti election by fire by force' comment of Chief Oyegun with the way APC members and leaders have been
boasting of using federal might to take Ekiti.
"However, we are sure that even if President Buhari is brought to Ekiti as the INEC Returning Officer for the election, APC will still fail.
"The international community and CSOs in Nigeria should therefore begin to focus their attention on the election from now and beam their searchlights on INEC and other agencies of the federal government that will be involved in the election. This is because the election will be an indicator as to the readiness and willingness of INEC to conduct free, fair and credible presidential election in 2019."
Short URL: https://www.africanexaminer.com/?p=43051