Plateau Police Unearth Plans by Muslim Group to unleash mayhem at Maulid Celebrations
Featured, Latest News
Monday, January 13th, 2014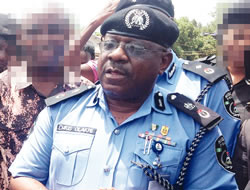 Agabus Pwanagba, Jos
The Plateau State Police Command said it has unraveled plans through intelligence that a group of Muslims who are not in support of the celebration of Eid Maulid are planning to disrupt the celebration.
The State's Commissioner of Police, Chris Olakpe who disclosed this at a meeting with the leaders of the Darika and Izala groups held in his office, said the celebration of Eid Maulid is a worldwide event and that Plateau state should not experience violence.
The Police Chief called on all Muslims to ensure that a peaceful celebration is witnessed in the State.
Olakpe reiterated that violence is no solution to any problem and appealed to all the parties to always dialogue to ensure peace reigns in the State.
He told the Darika group to ensure that posters are restricted to the areas where there cannot be violence.
In his submission, the National Publicity Secretary of JIBWIS, Alhaji Ahmed Muhammad said even though the celebration has been going on for many years and in no time has the celebration has been disrupted, but the preparation by the Darika group this year was unprecedented.
He said, the Darika group had been trying to provoke the Izala by placing posters and decorations around JIBWIS mosque and the house of their spiritual leader, Shiekh Yahaya Jingre on Sarkin Mangu street; knowing they are against the display of pictures and decorations.
He added that, "We had to alert the DPO of the Laranto Police station on their intention which was to be carried out in the night and this prevented the provocative act from taking place.
The Secretary of the Darika group, in his response, pointed out that the Maulud celebration has been going on for 43 years and there has never been a day the Izala group disrupted it even though they have never been in support of the celebration of the Prophet's birthday.
He said but they cannot rule out the possibility that some miscreants might want to cause disaffection between the two groups by provoking the Izala followers; assuring that precautions would be taken by all means to ensure that the celebration goes on smoothly.
Adding that a meeting was held with the other group; pointing out that effort is being made to put all the boys under control.
He appealed to the law enforcement agencies to assist further in putting the youths under control because it would be difficult for the group to totally put the boys under control.
Short URL: https://www.africanexaminer.com/?p=7219