Police Stop LASU Students From Shutting Down Fashola's Office
Featured, Latest News, News
Friday, June 6th, 2014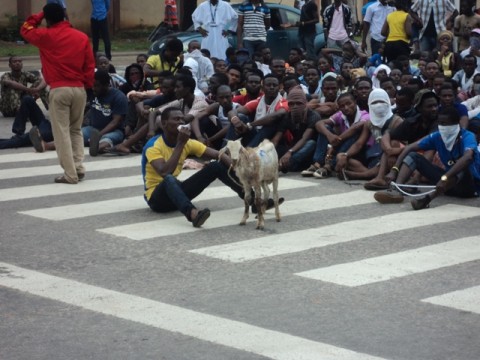 Policemen in Lagos, Nigeria have stopped protesting students of the Lagos State University (LASU) from shutting down the office of the Governor of Lagos, Babatunde Fashola for the second time in two days.
Hundreds of the students had on Thursday shutdown the governor's office, converting the entrance to his office to prayer ground and even cook and ate beans at the entrance, an act that has caused embarrassment to the governor.
On Friday evening, the students came the second time to occupy the entrance leading to Fashola's office as they did the previous day but met a brick wall as police from the Rapid Response Squad (RRS) barricaded the road leading to the governor's office from the State House of Assembly.
The students came in their hundreds and with BRT buses. This time, they brought a ram which they wanted to slaughter right at the entrance of the governor's office and cook it for eating but the police foiled the attempt by preventing them from moving near the entrance to the governor's office.
The RRS officers, in a bid to achieve their aim immediately barricaded the access roads to the State House of Assembly and the governor's office. This led to a heavy traffic gridlock around the secretariat, forcing vehicles owners to drive against traffic.
After barricading the intersections, the students danced to music blasting from the gigantic speakers stationed in a 14-seater commercial vehicle.
Efforts by the All Progressive Congress, APC Lagos State Youth leader, Mr. Tayo Sanya-Olu to appeal to the RRS officers to allow the student access the governor's office proved abortive.
Also, efforts to pacify the students to return to their school and wait for Monday when the seven-man Executive committee submits its report proved abortive.
An Assistant Superintendent of Police, who identified himself as Ajao argued that they were instructed not to allow the protesters gain access to the governor's office and Mr. Hakeem Animashaun, Special Adviser to the Governor on Youth and Student Affairs, said that they were surprised to see the students again.
"They were here on Thursday and the Commissioner for Transportation and Information and Strategy provided all the information they needed. But they demanded that they must see the governor to make an immediate pronouncement that the fee be reversed. And we made them to realize that the governor has gone to Rivers State for the Governor's Forum," he explained.
Instead of returning to their base, the students sat down on the road with the ram they brought to slaughter, vowing not to leave the scene until their mission was accomplished.
Short URL: https://www.africanexaminer.com/?p=12167