Postponement Call: Democracy Group Wants Dasuki Sacked
Featured, Latest News, Nigeria 2015 Election
Wednesday, January 28th, 2015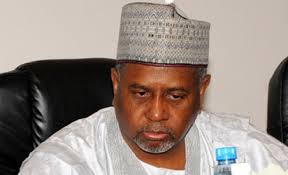 A political group, Democracy Vanguard (DV) has called on President Goodluck Jonathan to sack his National Security Adviser, Col. Sambo Dasuki (retd) for calling for postponement of the February elections.
Democracy Vanguard is a prominent organization campaigning for one man, one woman, one Vote in Nigeria.
National Coordinator, Democracy Vanguard, Mr. Adeola Soetan at a press conference in Lagos, Nigeria said Dasuki capitalised on flaws by the Independent National Electoral Commission (INEC) to call for the postponement of the polls.
"Capitalizing on the public outcry that greeted INEC distribution of PVCs, some people with suspected hidden agenda have been calling for the postponement of February 14 and 28 elections. Of worrisome is the fact that the leading voices of this 'election postponement orchestra' are some known friends and supporters of President Goodluck Jonathan who himself is a candidate in the election.
"The recent unintelligent outburst of the Security Adviser to the President, Col. Dasuki (retd,) calling for election postponement lends credence to the suspicion that there might be an underground plan to instigate a situation not conducive for election conduct on Nigeria so as to justify postponement.
"A security adviser of Dasuki status is supposed to be seen not to be heard commenting on sensitive issues that can threaten security in the country more so when such suggestion was not based on any validated inferences. Since INEC has reiterated its commitment to February, Dasuki and members of his postponement orchestra are just busy – bodies that should be watched and warned not to truncate our hard won civil rule.
"We demand for the immediate sack of Dasuki and we say NO to postponement of the elections. The social and security costs of such action may be too grave to bear," he said.
On PVC, Soetan said the initial shoddy preparation of INEC in timely making the Permanent Voter Cards (PVCs) available to prospective voters who were to exchange their Temporary Voter Cards (TVCs) for the PVCs has really done damage to the flaunted credibility of INEC and capable of demobilizing many Nigerians from exercising their franchise in the coming elections.
"INEC puts itself into the avoidable mess from the beginning by imposing a tight timeframe for the collection of PVC and insisting that only people with PVCs would be eligible to vote. This regimentation of a simple civic exercise is unnecessary and it appears punitive. Possession of PVC should have just been an added flavor which voters should have been encouraged to collect.
"In as much as the essence of PVC or TVC is for identification and authentication of voters, INEC should have made both PVC and TVC acceptable at the polls since accreditation and voting would take place at the same time throughout the country with restriction on movement. Multiple voting would be difficult except INEC processes are not foolproof. Thankfully, INEC has been making frantic effort to remedy the situation. This is commendable, but in the event of many people who are eager to collect PVCs could not do so, we insist that TVCs should be acceptable so as not to disenfranchise millions of Nigerians," he said.
According to Soetan, "this is a better option than the strange call for postponement of election. We, however, call on political parties, civil society groups, INEC and the media to redouble their efforts in mobilizing and enlightening prospective voters to go for their PVCs now that INEC has gone further to decentralize the distribution mechanism.
"We equally call on prospective voters who have not collected their PVCs to do so by finding time to visit INEC collection points. This is part of sacrifice we must make to entrench democracy and good governance in Nigeria."
On controversy over Muhammadu Buhari and Goodluck Jonathan Certificates, he said it is dangerous to unnecessarily heat up the polity and divert attention from basic issues affecting Nigeria in the ongoing campaigns by political parties.
Soetan stated that the allegations and counter allegations concerning the two leading candidates should not throw the nation into avoidable turmoil.
"Since the alma maters of Gen. Muhammadu Buhari and Dr. Goodluck Jonathan have come to their defence, anyone still in doubt can go to court for final arbitration. In the event that either of the two candidates win the election and ultimately found guilty of the allegation by the court after the election, such victory would be upturned and awarded to the next candidate.
"It is as simple as ABC. The alleged insidious attempt by some people to use the court to stop either of the candidates from contesting through a spurious 'Jankara Court Injunction' or halt the conduct of election is capable of causing social disorder and further raises suspicion and tension. We call for restrain from all gladiators in this battle for political advantage
"We appeal to politicians to make their campaigns issue based and not campaign on mundane sentiments of religion and ethnicity that will further divide the nation along the fault lines. Voters should ask critical questions on how their lots would be better and be fully convinced before casting their votes for any candidate(s) of their choice," he stated.
Short URL: https://www.africanexaminer.com/?p=21971