Presidency's Refusal to Recognize Amaechi as NGF Chairman Unacceptable
Articles/Opinion, Featured, Latest News, News
Wednesday, November 20th, 2013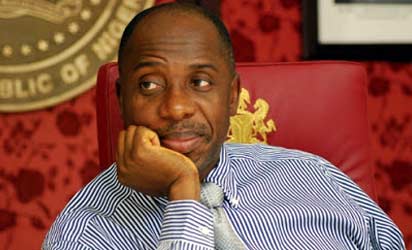 Press Statement
The continued refusal of The Presidency to recognise Rivers State Governor, Rt. Hon. Chibuike Amaechi, as Chairman of the Nigeria Governors' Forum (NGF) is, to say the least, unfortunate, dangerous, unjustifiable, regrettable and unacceptable.
The Presidency had reiterated this position while justifying the absence of President Goodluck Jonathan at the retreat recently organised in Sokoto by the NGF and to which President Jonathan was invited to deliver the keynote address. The retreat attracted the presence of eminent resource persons such as the Speaker of the House of Representatives, Hon. Aminu Tambuwwal, Nobel Laureate, Prof. Wole Soyinka; and Catholic Bishop of Sokoto, Matthew Kukah. It was also graced by distinguished personalities like former Chief Justice of Nigeria, Muhammed Uwais; former Chairman of the Economic and Financial Crimes Commission, Mallam Nuhu Ribadu; and the National Chairman of the New Peoples Democratic Party (nPDP),  Alhaji Kawu Baraje.
The Presidency's insistence on recognising Plateau State Governor Jonah Jang as the NGF Chairman is unfortunate because it does not only send across a dangerous signal but also serves to frustrate efforts to unite the country's State Governors so as to enable them serve Nigerians better.
Everybody knows that Amaechi won the transparently conducted NGF election of May 24, 2013 with 19 votes to Jang's 16 votes. By refusing to accept his victory due to his personal differences with President Jonathan and his wife, Dame Patience, the Presidency is otherwise saying that majority decision counts for nothing in an election. This stance, if not checked, is capable of plunging the country into chaos during the 2015 general elections.
Sadly, it is this same disdain for majority opinion that has factionalised the ruling Peoples Democratic Party (PDP) and put its very survival in jeopardy.
We appeal to Mr. President to disregard the misleading advice of the hawks around him and make himself an agent of peace and unity, both in the NGF and the PDP. He should rise above narrow partisanship and see himself as an impartial father eager to reconcile his feuding children. Anything short of this will not only tarnish his reputation but also have dire implications for national peace, unity and progress.
Sadly, instead of Governor Jang hiding his face in shame he still projects himself as the Chairman of the Nigerian Governor's Forum after he was duly rejected by his colleagues. We all should learn on how to protect our democracy and avoid any act that may endanger it.
Finally, we wish President Jonathan a prosperous and blissful 56th birthday celebration. We pray God to continue to guide and protect him from the evil mechanism and unholy counsel from misguided hawks in the Presidency and grant him the wisdom to see himself as a Statesman and President of the Federal Republic of Nigeria.
Long live NPDP! Long live Nigeria!!! Chief Eze Chukwuemeka Eze National Publicity Secretary, NPDP
Short URL: https://www.africanexaminer.com/?p=5070