Jonathan Dismisses Government's Laxity on Abducted Girls
Featured, Latest News, News
Monday, July 14th, 2014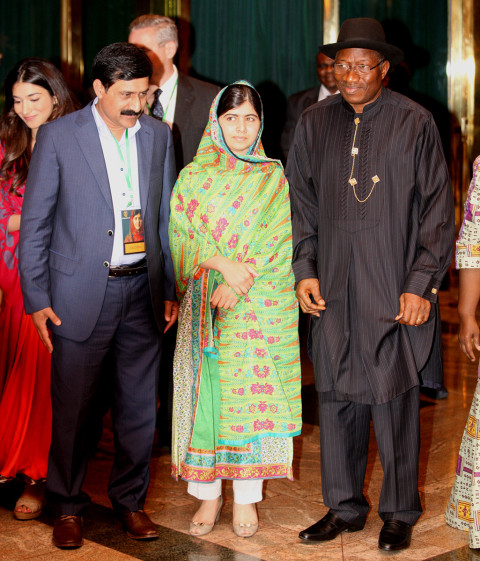 …Promises to Meet Their Families as He Meets Teen Malala 
By Tajudeen Balogun
The Federal government has again dismissed the public complaint that enough steps were not taken to save the abducted Chibok Secondary School girls and ensure their freedom from Boko Haram insurgents.
President Goodluck Jonathan made the dismissal on Monday, during his meeting with the Pakistani teen-Child Education Campaigner, Malala Yousafzai, in Abuja. The President who promised to meet with the parents of the abducted girls before the teen safety crusader left FCT, to personally comfort them and reassure them that the Federal Government was doing all within its powers to rescue their daughters, declared that the negligence accusation was "very wrong and misplaced" insisting that the Federal Government was doing everything possible to ensure that the girls were rescued alive and safely returned to their parents.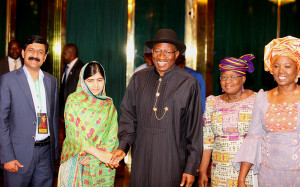 In a statement by his Special Adviser on Media and Publicity, Dr. Reuben Abati, President Jonathan explained to his guest who was accompanied by her father and other members of Malala Foundation, that Federal Government's efforts were constrained by the "overriding imperative of ensuring that the girls' lives are not endangered in any rescue attempt".
"Terror is relatively new here and dealing with it has its challenges. The great challenge in rescuing the Chibok girls is the need to ensure that they are rescued alive," the statement indicated.
The challenge notwithstanding, President Jonathan revealed that the Federal Government was very active in pursuing all feasible options to achieve the safe return of the school girls.
"I personally believe that since about 50 per cent of our population are female, we will be depriving ourselves of half of our available human resources if we fail to educate our girls adequately or suppress their ambitions in any way. We are therefore taking steps to curb all forms of discrimination against girls and women, and have also undertaken many affirmative actions on their behalf," President Jonathan said in the statement.
The President revealed that his administration was working on evolving and implementing some policies and measures, including 'Victims' Support Fund, the Safe Schools Initiative and the Presidential Initiative for the North East, to  benefit the Chibok school girls when they were safely rescued, as well as others that have been adversely affected by the Boko Haram insurgency.
In actualizing this, the Nigerian Leader pledged he would inaugurate a National Committee to oversee fundraising for the Victims' Support Fund, which would also cater for families of security men and women who have lost their lives in the war against terrorism, on July 16, this year.
The President thanked teen Malala for choosing to visit the country and her support on the ongoing efforts to rescue the kidnapped girls as well as her drive to promote girl-child education in the world.
Short URL: https://www.africanexaminer.com/?p=14363