Protest In Lagos As Court Adjourns Ruling On Use Of Hijab
education, Featured, Latest News, News, News From The State
Friday, September 26th, 2014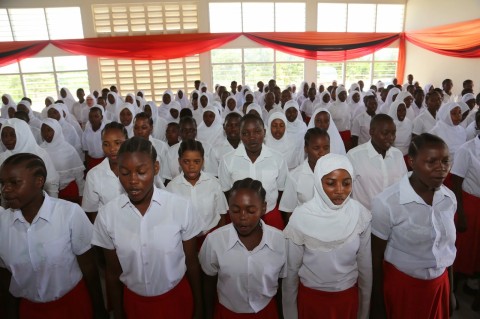 By Ayo Balogun
Ruling by an Ikeja High court on the use of Hijab – Head cover by female students in the Lagos state public schools was Friday adjourned till October 17 this year.
Friday's adjournment, which is the second  by Justice Modupe Onyeabor was greeted with peaceful protest by the army of the Muslim faithful at the court, who had expected final ruling on the suit filed by the state branch of the Muslim Students Society of Nigeria (MSSN). The first adjournment was on July 5, 2014.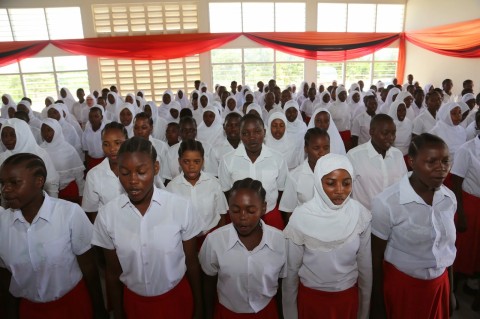 Counsel to the plaintiff – MSSN and Chairman of the state chapter of the Muslim Lawyers Association (MULAN), Barrister M. Sanni informed members of the association who turned out in large number for the ruling, that the court was not sitting and the Judge had adjourned the case till mid next month.
The announcement was followed by a peaceful protest by the MSSN members who started procession from the court premises through Oba Akinjobi road, Ikeja GRA and some parts of  the state capital.
The protesters displayed placards with different inscriptions such as  "No Hijab, no vote," "#Bringbackourhijab," "Don't encourage nudity," "No law can take our hijab," and "Don't politicize our religion" among many others.
It would be recalled the state government had requested the MSSN to accept out-of-court settlement at outset of the case in May 2013, but the Lagos state Counsel, Mr. Lawal Pedro (SAN), once told the court that the talk broke down.
Another Counsel to MSSN, Barrister Hassan Fajimite, described the latest  adjournment as "unnecessary delay tactics".
The suit was prompted due to manhandling in Februray 2013 by Principal of Kadara Junior Grammar School, Ebute Meta, Mrs. E. Ukpaka of a 14-year-old pupil, Aisha Alabi, for wearing hijab in the school premises.
Efforts by the committee set up by some stakeholders, which included the state Commissioner for Home Affairs, Oyinlomo Danmole, MSSN representatives and some lawyers could not yield desirable result as members disagreed on the final report produced by the committee.
Short URL: https://www.africanexaminer.com/?p=17973