Rivers APC Uncovers Alleged Plot By Wike To Dump PDP For APC
Latest News, News, News From The State
Thursday, April 30th, 2015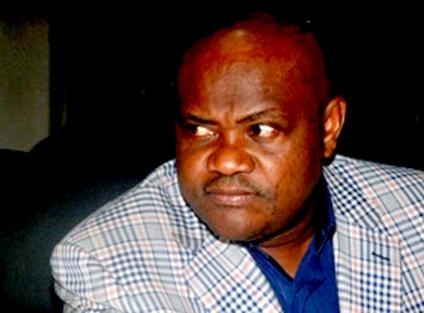 From Collins Amadi,  Port Harcourt – The opposition All Progressives Congress (APC) has raised an alarm on the alleged attempt by the Rivers State PDP candidate in the April 11, 2015 Governorship Election and Governor-elect, Nyesom Wike, to dump his party and join its fold.
In a statement issued in Port Harcourt, the State capital Thursday, by the its State's Publicity Secretary, Chris Finebone, the opposition condemned the sinister move, contending that Wike's objective was to obtain cover as well as avoid dethronement by the judiciary.
He indicated that the PDP candidate's latest move came as no surprise to those who knew his antecedents, having back stabbed his mentors such as former Senator John Mbata in the past and more recently, the incumbent Governor Rotimi Amaechi.
APC also argued that the former Minister of State for Education's past was replete with sabotage and dual personality, often unstable among peers, stressing that the party was not surprised at his latest moves to dump for the APC.
"Such a move portrays him as unstable in relationship having at several instances, bitten the finger that fed him.
"He thinks that by hiding under the canopy of APC membership, elders of the APC will prevail on Dr. Dakuku Adol Peterside, the governorship candidate of the party at the April 11 election, to abandon his quest for justice" the opposition queried.
The statement alleged that Wike's plot was to woo APC elders and leaders to prevail on Dr. Peterside to jettison his ambition and discontinue process of reclaiming his mandate at the Election Petition Tribunal.
"Aware that Peterside is a true and loyal party man, unlike what he is; Wike will propound the hypothesis of "this-is-a-party matter" to cajole both Peterside and the leadership. Unfortunately, Wike has already shot himself in the foot with the barbaric manner in which he obtained the fraudulent victory he is currently parading" APC established.
It added: "in any case, the APC has placed restrictions on fleeing PDP members whose only reason for jumping ship is because the PDP has lost the elections. Mr. Nyesom Wike is a liability rather than asset. It would be best he remains in the PDP, stands before Justice at the Tribunal and explains his role in the rape on democracy in Rivers State…"
In the meantime, the Chairman, Media and Publicity committee of the State's PDP Campaign Organization, Barrister Emma Okah, has denied the allegation, describing it as childish and "a deceased imagination".
Short URL: https://www.africanexaminer.com/?p=23391