RRS Arrests Ex-Convict for Robbing Foreigners
Featured, Latest News, News
Sunday, June 12th, 2016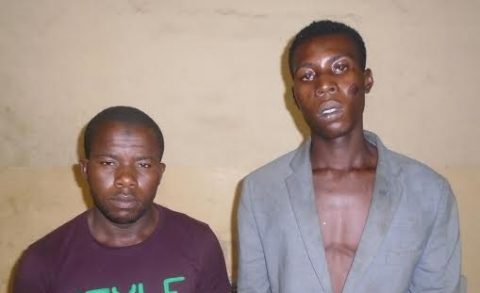 LAGOS, NIGERIA (AFRICAN EXAMINER) – The operatives of the Rapid Response Squad (RRS) of the Lagos State Police Command have arrested an ex-convict for allegedly robbing a Portuguese couple in traffic around Ijora area of Lagos, Southwest Nigeria.
The suspect, Samuel Meme, 22, from Delta State, an erstwhile scrap metal collector before venturing into robbery, stated that he targeted and robbed cars whose occupants were busy using their phones while in traffic.
Meme was arrested on Saturday morning after robbing a Portuguese couple and an occupant of another car in traffic at Marine Bridge, Ijora.
In his confessional statement, the suspect said, "my plan was to operate alone that night. Luckily for me there was heavy traffic, which extended deep into the night on Marine Bridge. Just as I was planning to strike, I ran into Wasiu (still at large), we decided to rob cars together.
"During the operation, we opted for a car at the rear, a Toyota SUV. The occupants were whites, and I guessed they were husband and wife. Wasiu and I positioned ourselves on both sides of the car and we broke the two rear glasses.
"I collected the man's phone while Wasiu took her wife's phone and her purse containing N60, 000. The lady pleaded for her drug from the purse and I asked my colleague to give her and we left for another car."
The suspect further said that, "the next car in front was a Toyota Corolla, with a lone occupant. We broke the two side glasses too but the lady insisted she had no phone but we collected her bag and jewellery."
Recounting how he joined the robbery gang, the suspect revealed that "Wasiu taught me how to rob in traffic and I have mastered the act. I operate alone. Occasionally, when I run into like minds, we robbed whenever there is traffic on Marine Bridge. We sleep under Ijora Bridge and we are many there."
The suspect disclosed that four of his gang were currently serving different jail terms in Kirikiri prison.
"We are six guys in my gang. Four of us are in Kirikiri Prison. They are Gbenga, Imele, Tontolo and Lateef. I just came back from Kirikiri, where I spent three months. Robbery is not the only job I do. I do other menial jobs. We selected cars to rob whenever we see any vehicle where the occupants are busy with phones. We start operation around 8:00 p.m," he explained.
The suspect further told the RRS interrogator that he is also an expert in removing trailers' batteries.
"I also remove and sell trucks batteries that are parked by the road side. This week alone, I have stolen and sold like five batteries. I sold each of the batteries for N4000 or N5000. I sell them to Musa Yahuu", he said.
His confessional statement led to the arrest of the stolen batteries' receiver, currently in police custody.
He added that, "My colleagues who are still at large are Dan Jos, Ik and Wasiu. Dan Jos and Ik are part of my team only that they didn't operate with me that night".
As at the time of filing this report, the traumatized Portuguese couples were still admitted in the hospital.
Confirming the incident, the Police Public Relations Officer, PPRO, SP Dolapo Badmos, said that there would be no hiding place for criminals in Lagos State, adding that the suspects had been transferred to the State Anti-Robbery Squad, SARS for further investigations.
Short URL: https://www.africanexaminer.com/?p=33514