Saraki Challenges MTN, Private Firms to Contribute to Sports Development
Featured, Latest News, News
Wednesday, September 21st, 2016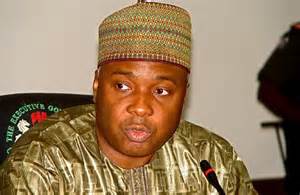 Ayodele Adegbuyi, Abuja
ABUJA, NIGERIA (AFRICAN EXAMINER) –  President of the Senate, Bukola Saraki, on Tuesday challenged MTN Nigeria to play an increased role in sports development in the country.
Speaking to reporters after a courtesy call by a delegation of the MTN Group in Nigeria led by Brig. Gen. Sani Bello (Rtd) and Ferdinand Moolman, Saraki emphasised that there was a need for large corporations to play a part in ensuring that Nigerian athletes had the necessary corporate funding to compete at the highest levels on the international stage.
"It would be great for thriving corporations like MTN Nigeria to begin to look at how they can contribute to national sports development in Nigeria," the Senate President said, "Such endeavours can make up a critical part of the Corporate Social Responsibility contributions of these companies."
Saraki cited the example of the Delta Airlines which came to the aid of the Nigerian National football team, popularly known as The Dream Team, at the recently concluded Olympic Games in Rio, stating that such interventions in sports should become more commonplace.
"We need to encourage more corporations to set up funding mechanisms like foundations that our athletes can benefit from. Doing this would address the issues of funding that have limited our previous successes in international sporting events.
"All around the world, athletes benefit from private sector sponsorship — Nigerian athletes should not be the exception. Doing this would help with the preparation of our athletes prior to sports outings, and would also contribute to the logistic requirements that are a necessary ingredient for success", he said.
The Senate President said that moving forward, government across all levels should encourage a private-sector driven approach to sports development, highlighting the fact that the Nigerian entertainment industry, specifically Nollywood and the music industry, are noticeable case studies that demonstrate that the increased participation of private sector actors in the administration of the informal sector leads to more effective results.
"If we take Nollywood and our indigenous music industry as an example, we can see that these sectors have reached a point of global recognition and acceptability. This is because the innovative and competitive approach of the private sector can never be duplicated by the bureaucracy of government. This is why we need to reevaluate how we think about sports and sports development in Nigeria. "
Short URL: https://www.africanexaminer.com/?p=35639