Scores Of Migrants Drown As Another Boat Capsize In The Mediterranean
African News, Latest News, News
Wednesday, May 6th, 2015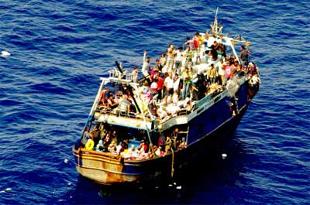 Two weeks after 800 passengers perished in Malta when the boat they were traveling with, to Europe, capsized in the Mediterranean, dozens of migrants have again drowned in the sea after a boat sank in the south of Sicily.
According to Save the Children aid Group, survivors of the ill fated boat fell into the sea as a rescue vessel was approaching and have since arrived in the city of Catania Tuesday.
Situation reports by survivors indicated that about 40 victims had been trapped inside the sea
Representative of Save the Children's in Catania, Giovanna di Benedetto, confirmed that the incident occurred Sunday, but added that the exact toll was yet to be established. Similarly, the Italian coastguard has not confirmed the number of dead.
However, the castguard reported that over 5,800 migrants last weekend were rescued while 10 bodies were recovered off the Libyan coast.
It was also said that both Italian and French ships were engaged in picking up survivors from wooden and rubber boats in 17 separate operations.
Tuesday sinking coincided with Naval Chiefs from 26 European countries, billed to discuss the torrent migrant crisis in Naples, southern Italy.
Not less 1,750 migrants have died this year, while attempting to cross the Mediterranean, to different Eurepean Nations. The disturbing trend had since prompted the EU leaders, to take measures in checking illegal migrants who are in desperate search of Golden Fleece.
Short URL: https://www.africanexaminer.com/?p=23439