Senate Promises Early Completion of Constitution Amendment Exercise
Featured, Latest News, News
Wednesday, January 13th, 2016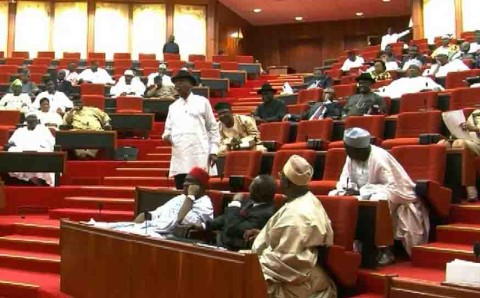 Ayodele Afolabi, Abuja

The Deputy Senate President and Chairman, Senate Committee on the Review of the 1999 Constitution, Ike Ekweremadu, has given assurance on early completion of the constitution amendment exercise.
He gave the assurance Wednesday, during the inauguration of the Committee by the Senate President, Bukola Saraki.
Senator Ekweremadu said although the successful amendment of the 1999 constitution was only recorded in 6th National Assembly, which he also chaired, resulting in the First, Second, and Third Alterations, saying that he believed there were also a lot of insights to draw from all constitution amendment exercises.
He added that the Fourth Alteration Bill, which was not assented to by former President Goodluck Jonathan remained a huge effort in amending the 1999 Constitution in accordance with the wishes of the Nigerian people.
Notable among the key amendments, according to him, were strengthening of the local government administration, removal of Presidential assent in constitution amendment, separation of the Office of the Attorney-General from that of the Minister of Justice, creation of the Office of the Accountant-General of the Federation separate from the Accountant-General of the Federal Government to enhance accountability, financial autonomy for State Assemblies, and provision of 30-day timeline for President and Governors' assent to Bills passed by the National and State Assemblies.
Others include empowering the Independent National Electoral Commission (INEC) to deregister political parties, devolution of more powers to the states, provision of 180-day timeline for the determination of pre-election matters, provision for independent candidacy, and making it mandatory for the President to present a State of the Nation address at least once in a year.
The Senator, however, said it had been observed that constitution amendment exercises in election years were always caught in the web of politics and intrigues, assuring that the amendment exercise were one of the top priorities of the 8th Senate.
"Timing for constitutional amendment should be carefully determined as amendments in election periods close to the lifespan of the government in power tend to be undermined by the prevailing political atmosphere", Senator Ekweremadu said.
He also emphasized the need for greater consensus and interface with the executive arm of government throughout the review process.
The Deputy Senate President further stressed the need to "rationalize the alteration process by adopting a strategy to enhance synergy, concordance, and work plan, which both chambers are comfortable with to help reduce avoidable delays in the amendment process".
Short URL: https://www.africanexaminer.com/?p=29403