Senate Resumes; Sets For Deliberation on $1billion Jonathan's Loan Request
Featured, Latest News, News
Tuesday, September 16th, 2014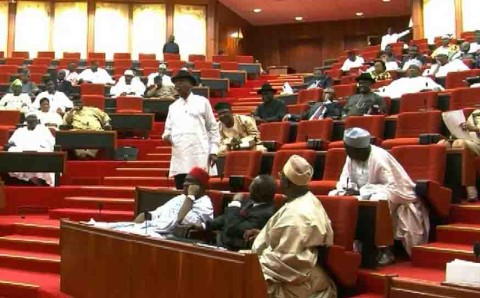 Oyewale Oyelola
The Upper legislative Chambers – Senate is expected to commence Tuesday, hearing on the $1billion loan request by President Goodluck Jonathan to equip Nigerian Security  in tackling the raging insurgency in the country.
The Chairman, Senate Committee on Rules and Business, Senator Ita Enang gave this hint in Abuja on Monday while addressing journalists in his office.
He said the Senate would  give speedy hearing to the President's request, adding that the lawmakers would support the Federal Government fight against Boko Haram insurgents in Nigeria.
Enang noted that the Senate would allow robust discussions on the request before  ahead of approval.
It would be recalledthat President Jonathan sent the request to the Senate two months ago with promise to expend the money on checking menace of the insurgents.
Jonathan, in a letter dated July 15 and read (then) by Senate President David Mark, who indicated the $1 billion may be sourced from other governments.
"You are no doubt cognizant of the ongoing serious security challenges, which the nation is facing as typified by the Boko Haram terrorists threat. This is an issue that we have discussed at various times.
"I would like to bring to your attention the urgent need to upgrade the equipment, training and logistics of our Armed Forces and security services to enable them be more forceful to confront this serious threat.
"For this reason, I seek the concurrence of the National Assembly for external borrowing of not more than $1 billion, including government to government arrangements for this upgrade" Mark has indicated during the presentation of the letter in July.
Short URL: https://www.africanexaminer.com/?p=17495