Senate Unable To Veto 2015 Amended Constitution
Featured, Latest News
Tuesday, May 12th, 2015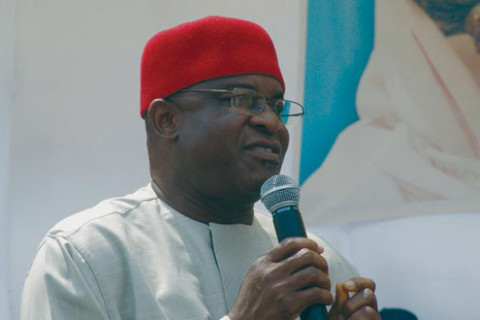 By Ganiyu Nasirudeen – Sequel to last Thursday Supreme Court ruling, which ordered the status quo to be maintained on the subject, the Nigerian Senate Tuesday suspended its planned veto of the controversial 2015 Constitution Amendment Bill.
The Senate and outgoing President Goodluck Jonathan have since February this year, been at logger head, owing to the latter's decline to assent the Bill on alleged errors in it and subsequent resolve of the earlier to veto it.
However, the apex Court in a ruling by a seven-man jurist, held last week, that further actions on the issue be suspended, while it fixed the next hearing for Thursday, June 18, 2015.
Already, the Bill has been gazetted as the Constitution of the Federal Republic of Nigeria (fourth alteration) Bill 2015 and it was expected to be read by the Deputy Senate President, Ike Ekweremadu, who presided the plenary Tuesday, on the Senate floor.
The amended bill which was passed in February 2015, among others, provides for independent candidature for election contest and separation of the office of the Attorney-General of the Federation from office of the Minister of Justice; stripping the President, the power to assent to constitution amendment bills.
However, Mr President's grounds of refusal to assent the bill, in his suit with No: SC/214/2015 include: that the bill was not passed by four-fifths of the two legislative chambers of the NASS as required in the Sections 48 and 49 of the Nigerian constitution among others.
Short URL: https://www.africanexaminer.com/?p=23501