South-East APC Cautions PDP Leaders Against Provocative, Inciting Statements
Featured, Latest News, News Across Nigeria, News From The State
Tuesday, June 7th, 2016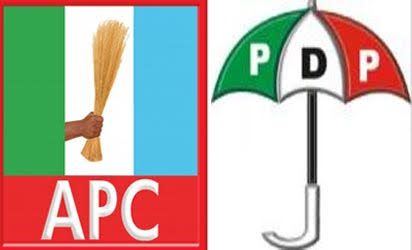 By IGNATIUS OKPARA, Enugu
ENUGU, NIGERIA (AFRICAN EXAMINER) –  The South-east chapter of All Progressive Congress APC, has cautioned leaders of the opposition Peoples Democratic party PDP and its agents in the region against  inciting and provocative statements capable of tearing the nation apart.
It said: "We have taken notice of inciting and provocative statements by officers and Agents of PDP in the South East in recent times, using false group names and sometimes masquerading as IPOB sympathizers to misinform and hoodwink our people by inciting them against the Federal Government led by APC.
"Their sole aim was to bring the Federal Government to public hatred, contempt, ridicule or disrepute, particularly in the South East zone, so to divert attention from the agenda of the government to fully recover looted public funds and set our economy to a self-sustaining mode.
A statement issued by the south east zonal publicity secretary of the APC, Hon. Hycienth Ngwu, and made available to AFRICAN EXAMINER in Enugu on Tuesday stated thus: "this is quite unfortunate, and we stand tall in condemning these acts of sabotage and deception.
"These series of unwarranted attacks against the Federal Government by these agents have been carried to a disturbing level and are the reasons for the pockets of civil disturbances in the South East in recent times.
According to the statement, "PDP and their agents should learn to play fair politics rather than destructive politics.
"They should learn to criticise policies constructively with a view to deepening our democracy and building a strong economy that will see many of our people out of poverty threshold, rather than fabricating lies with a view to hoodwinking our people, inciting them to violence and destroying our economic base.
"The clergy should not be drawn into politics with bitterness, they should as a matter of fact, be peace-agents and not otherwise.
"Exciting and provocative statements are like ill wind, it blows nobody any good, nothing compares to peace and dialogue.
"We have had enough of marginalization, confrontation is not the answer, it is not the key.
"PDP with its array of prominent Igbos failed woefully in addressing the issues in their 16 years of reign in power.
"Our roads and other infrastructures were neglected and abandoned, contracts were awarded and recklessly abandoned.
The party said the people of the zone cannot afford another war in the South East.
"And we cannot ask the Federal Government not to ask for refund of looted public funds.
"We understand their antics, they should please leave us alone, to be part of this "Change Agenda" so that we can benefit maximally from it and re-establish our major stakeholdership in the Nigerian Community, because we are Nigerians.
"Our people are true democrats, we hereby call on our people to show this by promoting the tenets of democracy and the rule of law.
The party however, urged the people of the area to  shun any political tendencies that preach disunity and hatred amongst them, "and between us and other tribes or regions in the Nigeria.
"It is high time we tell the PDP and their agents that being in opposition is not synonymous with abuse of and or making exciting, inciting and provocative statements against the government and a hysterical wolf crying.
"Politics should be played with the interest of the masses in fore-front, we must liberate our people politically and economically.
Short URL: https://www.africanexaminer.com/?p=33390