S/East, S/South Workers Protest Plot To Disenfranchise Their Delegates From NLC Election
Featured, Latest News
Thursday, March 5th, 2015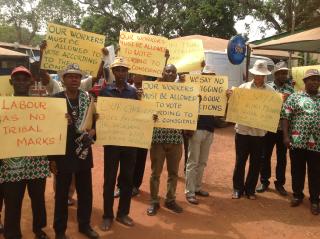 IGNATIUS OKPARA, Enugu – A Coalition of Southeast/South-South Workers forum of the Nigeria Labour Congress (NLC) on Thursday staged a peaceful demonstration in Enugu over what they described as the alleged intimidation and victimization by leadership of some industrial unions in the country.
The aggrieved unionists, numbering over 1000 had marched through major streets of Enugu metropolis with various placards chanting solidarity songs.
Some of the placards read: "There is no tribalism in labour union" We opposed disenfranchisement of Southeast delegates in NLC election".
"We oppose rigging in the NLC election" among others.
Speaking with newsmen shortly after the protest, Chairman of the group, Comrade E. O. Osagie said," We call on the leadership of the NLC to ensure that there is no intimidation in the rescheduled NLC election"
"We the workers of Southeast/South-South zones sequel to the intimidation, victimization, harassment and disenfranchisement suffered by delegates from theses zones in the hands of some leadership of some industrial unions especially Medical and Health Workers Union of Nigeria and Nigeria Civil Service Union during the inconclusive NLC delegates conference wish to call on the leadership of NLC to ensure that workers vote according to their conscience"
The group also warned that any attempt to repeat the ugly incident of what occurred during the inconclusive election would result to total boycott of the forthcoming NLC election by all delegates from the Southeast and South-South zones.
"Today, Thursday, is another great day in the history of trade union movement when the Southeast and South-South labour leaders and workers are strongly demanding that the provisions of our great union constitution and regulations should be implemented"
Osagie, further explained that their agitation and position were drawn from the "provisions of our union constitution and regulations as amended in 2007"
He however, wondered why the constitution is not binding to some members of the national leadership of the union, who he alleged wants to sit tight in office, even after the expiration of their constitutional tenure in office.
Also speaking, Vice Chairperson, Nigeria Labour Congress Women Commission, Doris Nnaji, warned that if the right thing is not done during the election, the women would mobilise forces against all the undemocratic elements in the workers union.
Short URL: https://www.africanexaminer.com/?p=22553