South East Workers Stage Rally In Honour Of Massacred 67 Coal Miners
Enugu, Latest News, News Across Nigeria, News From The State
Saturday, November 19th, 2016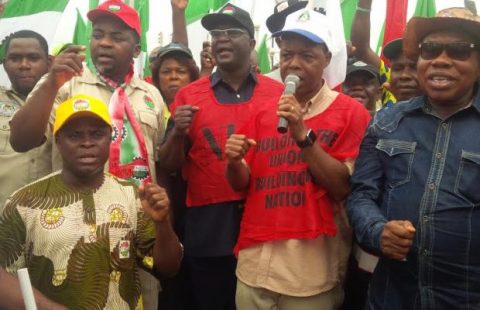 By Ignatius Okpara
ENUGU, NIGERIA (AFRICAN EXAMINER) – Workers in south East Nigeria could not hold back their tears on Friday as they converged in Enugu for a rally to pay respect to the 21 coal miners who were brutally murdered by the British Police at the Iva Valley coal mine, Enugu in 1949.
The workers, drawn from Enugu, Ebonyi, Anambra, Abia, and Imo states, recalled how the coal miners were brutally killed simply because they demanded for a better work condition.
The workers, who were so emotional throughout the rally, were led by the National President of the Nigeria Labour Congress NLC, Comrade, Ayuba Wabba.
AFRICAN EXAMINER observed that the remembrance rally commenced from the Labour House, from where the workers proceeded to the New Market Round About, where a cenotaph had long been erected in honour of the slain workers.
Addressing the workers before laying a wreath in honour of the fallen heroes, the NLC President announced that with effect from 2017, the memorial would take place simultaneously across the 36 States of the Federation and the FCT, Abuja.
Said Wabba: "It is exactly 67 years ago, on this very day, within this very hour, on this very soil and in this country that workers were brutalized, maimed and massacred by the colonial police under the British empire.
"At end of this unprecedented mayhem and bloodbath visited on the working class, 21 workers of the Enugu Coal Mines lay dead in a pool of their own blood and 51 others injured.
"They were callously mowed down for demanding for better conditions of service in their workplace."
The NLC President recalled that "among other issues, the miners had demanded for upgrading of hewers to artisans and the payment of housing and travel allowances.
"This senseless killings was the climax to the repression and exploitation experienced by workers not only in the coal mines, but throughout the country during colonial period."
Wabba however, urged Nigerian workers to remain united in fighting for their rights, noting that they were being confronted with problems ranging from several months of salary arrears, increase in electricity tariff, removal of subsidy on petroleum products, the unofficial devaluation of the naira, among others.
He observed that despite increase in global wealth, the welfare of workers had not improved.
According to him, "they say it is because of recession; but my question is- was the recession caused by workers? When there was abundance, did we enjoy it with them?
"All we are insisting is that we are the ones creating wealth, so we should enjoy wealth; there is no social justice in Nigeria till date; 10 million children are out of school; even workers cannot send their children to school."
In his speech earlier, Enugu state Chairman of the NLC, Comrade Virginus Nwobodo, lamented the present poor condition of the Nigerian workers.
He stated that the condition of the surviving coal workers was more worrisome considering that the company's assets had since been sold off and balkanized without taking their plight into consideration
Nwobodo, said the NLC would continue to commemorate the killing of the killed coal miners, whom he hailed, paid the supreme price for Nigerian workers
Short URL: https://www.africanexaminer.com/?p=36551