Stop Insulting SW Traditional Rulers, Buhari Should Face ICC, Not Mrs Jonathan, PDP Tells APC
Featured, Latest News, Nigeria 2015 Election
Wednesday, March 11th, 2015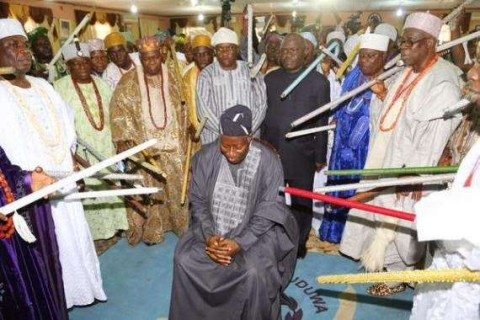 The People's Democratic Party (PDP), has urged the All progressive Congress (APC) to stop insulting the traditional rulers in the South west who the Yoruba hold in high esteem.
The ruling party also alerted Nigerians about plans by the APC to malign the families of the president and petroleum minister, Diezani Alison-Madueke in a documentary as a response to the one on Bola Tinubu.
The party also described as laughable talks about dragging Mrs Patience Jonathan to the ICC, when , according to the PDP, it is General Muhammadu Buhari who instigated the murder of Nigerians in 2011, who should face justice.
Few months ago, APC leader, Bola Tinubu had derided the south west Obas, and said most of them lack credibility, and self respect.
The APC had in a sponsored advertisement, described prayers offered to President Goodluck Jonathan by the south west Obas, as serving Mammon.
Presidential campaign spokesman, Femi Fani-Kayode said at a news conference in Abuja today "Their threat to take the First Lady to the ICC is not only absurd but it is also nothing but the empty and boastful ranting of a perfidious, desperate, decaying and dying political party and such threat will amount to nothing. The truth is that if anybody is a candidate for the ICC, it is certainly not Dame Patience Jonathan, but rather General Muhammadu Buhari himself"
On the disrespect of the Obas he said "Indeed, it beats our imagination how anybody in his right senses could equate a legitimate prayer for our President in the court of the Ooni of Ife by a large number of Yoruba traditional rulers, with the worship of mammon!
It is insulting, disrespectful and totally unacceptable. We seize this opportunity to issue a stern warning to Lai Mohammed and his party to stop insulting the Traditional Rulers of the south-western part of our country.
It was not too long ago that the de facto leader of the APC, Asiwaju Bola Tinubu, described the southwest Traditional Rulers in the most uncharitable terms when he said only three of them could be taken seriously."
Short URL: https://www.africanexaminer.com/?p=22657