Sudanese Apostate, Meriam Ibrahim Ready To Rally Support For Victims
African News, Crime Watch, Featured, Latest News, News
Monday, September 29th, 2014

The Sudanese woman, Meriam Yahia Ibrahim who was convicted in May this year, by a Sudanese court  but escaped, has indicated interest to take on the fight in support of the victims who suffer similar ordeal.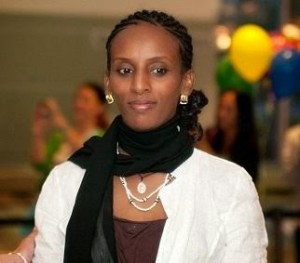 Ibrahim who married to a Christian Sudanese dropped the hint in Manchester, New Hampshire, United States (US) where she is seeking asylum and living with her husband, Daniel Wani and their two children.
Meriam was born to a Muslim father, but  raised by her mother who shares Christian faith and later married to another Christian.
The Sudanese law provides that being from a Muslim father, technically, she remains a Muslim, hence the court sentence to death for denouncing Islam – found culpable of apostasy. The ruling sparked revolt especially from the Western world.
While in the custody, she gave birth to her second child, named  Maya. Her escape has Sudan prison has been linked to stiff international pressure.
It would be recalled AFRICAN EXAMINER reported Meriam's travail early in August this year, with a call for public caution by an Islamic Scholar, Alhaji Nojeem Jimoh on her death sentence. The Scholar had posited that such ruling would have been expected in strictly in an Islamic state as apostasy was "a treasonable offence". Sudan is not an Islamic state.
Short URL: https://www.africanexaminer.com/?p=18050