Taraba First Lady Hails Fidelity Bank Over Donation to Children with Disabilities
Banking & Finance, Business, Featured, Latest News
Monday, May 21st, 2018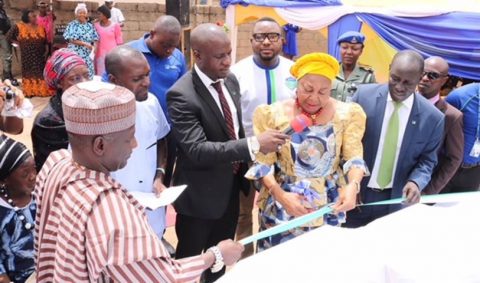 Photo: L-R: Commissioner, Urban & Regional Planning, Taraba, Hon. Hassan Beppah; Principal, Precious Kids School, James Ayagwa; Branch Leader, Jalingo, Fidelity Bank Plc, Kabir Abdurrahman; Head, Corporate Social Responsibility & Sustainability, Fidelity Bank Plc, Chris Nnakwe; Taraba Firstlady, Barr. Anna Ishaku and Regional Bank Head (RBH), North East, Musa Tarimbuka.
(AFRICAN EXAMINER) – Fidelity Bank Plc, in its bid to enhance the lives and wellbeing of children with disabilities, has donated special learning aids to Precious Kids International School in Jalingo, Taraba State.
The Bank under the auspices of the 'Fidelity Helping Hands Programme' (FHHP), its multi-purpose vehicle for corporate social responsibility (CSR) programme also provided stationeries and writing materials to the children as part of continuous efforts to improve the standard of education in the country.
The project was initiated by staff of Jalingo Branch whose personal contributions were matched by the bank, in line the bank's CSR philosophy.
Speaking in Jalingo during the ceremony, Fidelity Bank CEO, Nnamdi Okonkwo said the bank recognizes the importance of education as a powerful tool for socioeconomic transformation.
Okonkwo who was represented by the Regional Bank Head, North East, Musa Tarimbuka said, "today, we are here to impact the lives of our young ones; some of whom who are visually impaired and have speaking and hearing impediments.
"It is our hope that the donation of educational materials to Precious Kids International School Jalingo, that will aid effective teaching and learning in the school."
Wife of the Governor of Taraba State, Anna Darius Ishaku who was the Special Guest of Honour at the event, thanked the bank for its kind gesture. She also commended the Fidelity staff who contributed their personal funds for the project. Whilst calling on other corporate organizations to emulate Fidelity Bank and give back to society, the Taraba State First Lady expressed confidence that the materials will help develop the mental abilities of the students and help raise a new generation of Nigerian youths.
The Principal of the School, James Ayagwa, also thanked the Bank for the kind gesture, stating that the materials were quite timely and much needed.
Meanwhile doing social good is a culture at Fidelity Bank said the bank's Head of Corporate Social Responsibility & Sustainability, Chris Nnakwe.
According to him, "being socially responsible was the most effective way to bring about change in any society and we all have roles to play as individuals and corporate citizens" he added.
Still in Taraba State, the bank earlier in the year, equipped the School Library of the Excellences International School and also erected an electronic bill board for them.
This gesture has contributed to improving the reading and research culture of the school.
Short URL: https://www.africanexaminer.com/?p=44000