TB Joshua Alleges Chemical Attack On Collapsed Church Building
Featured, Latest News, Uncategorized
Sunday, September 14th, 2014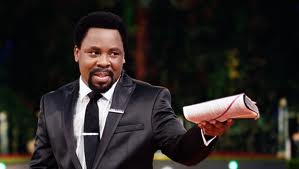 Head of The Synagogue Church of All Nations, Prophet T B Joshua, has alleged that the collapse of a section of the church complex last Friday may have been caused by an attack on the Church.
According to him, the collapse goes beyond the allegation of structural defects, as have been variously speculated.
Speaking to journalists after a CCTV footage of events leading to the building collapse was shown to journalists at the church premises on Saturday, Prophet Joshua said a plane, which eyewitness swore was a military jet, had earlier begun circling around his prayer ground, where he usually retreats to for spiritual upliftment a few distance from the church location as early as 10.00am.
Not paying much attention to it, he said he left the site and headed for the church complex to freshen up, only to be notified that the plane had also stopped circulating and headed towards the location of the church.
Not long after, he said he also got a security report from his officials that a plane was sited hovering over one of the buildings in the complex.
He said the plane circulated four times before the building suddenly collapsed at exactly 12.44 pm.
The video footage actually showed the plane hovering above the five-storey building said to be an accommodation facility, first at 11.30, and then four times within three minutes.
The plane then came back again circled the building again and left. At exactly 12.44 when it looked like it was all over, the building suddenly came down, collapsing all at once.
According to some officials of the church and eye-witnesses, the building collapse looked very much like chemicalised demolition and may yet be a new dimension in the terror onslaught in the country.
Apologising for the hostile treatment said to have been meted out to the media on the day of the incident by church members and security operatives attached to the church, Prophet Joshua said he did not make any official statement Friday because he did not want to create any panic or an impression that terrorists have invaded Lagos.
He also said that the video footage was there to corroborate his point, while also declaring that if indeed it was a terrorist attack, the perpetrators are not likely to stop with Friday's incident.
Asked to comment on the number of casualties, the prophet simply said 'rescue mission was still ongoing.
One of the church officials, who craved anonymity however told this reporter that nearly all the people in the building have been pulled out and that "miraculously, nearly all survived".
One of the NEMA official on site was however overheard saying that about 17 deaths have been recorded, with about 119 injured.
The Nation
Short URL: https://www.africanexaminer.com/?p=17412