There Can't Be Development Without Peace- Buhari
Featured, Latest News, News Across Nigeria
Friday, January 20th, 2023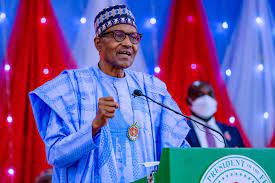 (AFRICAN EXAMINER) – President Muhammadu Buhari on Thursday said there can be no development without peace, stressing that the two are complementary
 A statement issued by Special Adviser to the President on Media and Publicity, Mr. Femi Adesina said Buhari spoke on Thursday at the Presidential Villa while granting audience to the Director General of the Arab Bank for Economic Development, Dr Sid Ould Tah.
Buhari, who just on Tuesday in Nouakchott, Mauritania, received an award for Strengthening of the Peace in Africa from the Abu Dhabi Peace Forum, said the work of the Arab Bank for Economic Development "is very critical, and, indeed, a major catalyst and tool for achieving our overall objective as leaders on the continent." 
While commending the bank for its investment in Nigeria, the President noted strides in the agricultural sector regarding food security systems, capacity building, and integrated infrastructure project. 
He said the key focus of the current administration had been Security, Economy, and Anti-Corruption, noting that the three are critical "towards achieving our overall development objective not just as a country, but more importantly as a continent." 
Buhari noted that the issues that affect one nation also affect others, stressing that "this has been clearly demonstrated in our fight against the tyranny of terrorists that have spread across the entire West African sub-region, and beginning to emerge in our sister countries in some parts of East and Central Africa." 
He said focus on agriculture and infrastructure allowed Nigeria to be resilient during the last two global economic and public health crises while urging the Arab Bank for Economic Development to review the amount of capital it can inject into various economies, "as this would lead to greater impact as we stare at the various issues that would confront our economies." 
Borno State governor, Babagana Zulum, who had interfaced with the bank at its headquarters, thanked the President for ensuring improvement of security in the North East, "as we now get grants for livestock farming, gum Arabic production, infrastructure, and I believe Nigeria will still have more opportunities from the Arab Bank for Economic Development." 
Ould Tah congratulated Buhari for his award on peace strengthening, saying it was a testimony to his efforts in promoting amity in Nigeria and Africa. 
He said the bank has a strong relationship with Nigeria, and would love to do more in the areas of wheat cultivation, gum Arabic, veterinary support services, women and youth development, among others
Short URL: https://www.africanexaminer.com/?p=84693