Tiwa Salvage Strikes N30 Million Deal With Forte Oil As Brand Ambassador
Entertainment
Saturday, February 15th, 2014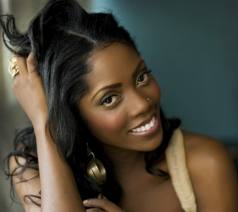 Songwriter and artist, Tiwa Salvage has struck a N30 million deal with Nigeria's foremost energy solution provider, Forte Oil Plc to be the company's brand ambassador.
The deal will see Tiwa Salvage having her gorgeous face on its petroleum product as its brand ambassador.
Group Chief Executive Officer of Forte Oil Plc, Akin Akinfemiwa at a ceremony in Lagos on Friday said Tiwa Salvage emerged as the company's brand ambassador through a meticulous process.
"I introduce the person of Tiwa Savage as our brand Ambassador. She went through an extensive selection process. She fits into our company's vision and mission in terms of what we represent. We find exactly the same thing in Tiwa Savage that is why we have chosen her as our brand ambassador for Forte Oil Plc.
"At Forte we are committed to excellence and quality, we do our things in a peculiar way that make us stand out as a brand. Our core values are being committed, open responsive and respect. We are committed to everything that we do and that is what gives us results. We are open and very transparent in all our dealings with all our stakeholders.
"We value honesty and feedbacks. We are responsive to the needs of our customers and stakeholders and in everything that we do we treat our customers with respect. If you are a fan and lover of Tiwa Salvage music, you will discover that she is committed to everything that she does," he said.
According to him, Tiwa Salvage "is open, she has a lot of respect and she is responsive to our market in terms of changing our music industry to fit into our concept. This is what made her the face of Forte Oil."
On her part, Savage declined comment on the exact amount the deal is worth, saying that "In terms of money I want to say its big enough to fit into what is offered for big brand ambassador. It is my honour to be named as brand ambassador to this incredible company. They are unique. Whenever you step into Forte oil fuel stations, even the offices, you find something remarkably different in terms of quality services and environment."
Short URL: https://www.africanexaminer.com/?p=8313