Ugwuanyi's Aide Rescues Mentally ill Woman Off Enugu Street for Treatment
Featured, Latest News, News Across Nigeria, News From The State
Wednesday, August 1st, 2018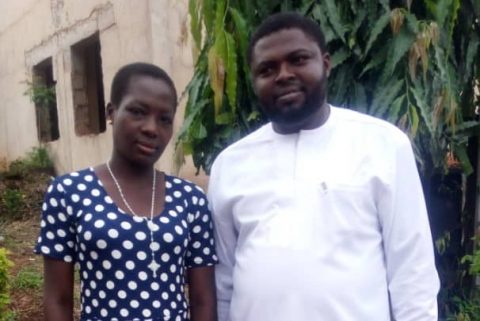 Photo: Miss Emily Oguns and Mr Emmanuel Jonathan
From    Ignatius  Okpara, Enugu
(AFRICAN EXAMINER) – A mentally challenged graduate of Banking and finance lady from Edo State, South- South Nigeria, who was rescued in Enugu State, has appealed to Governor, Godwin Obaseki of the state to come to her assistance for a total rehabilitation of her life.
Succour came the way of the lady, after she was picked up from the streets of Enugu for rehabilitation by an aide to Governor Ifeanyi Ugwuanyi on social media, Mr Emmanuel Jonathan.
The Governor's aide told newsmen on Sunday in Enugu  that he came across Miss Emily Oguns, in Enugu and took her to the  Federal Neuropsychiatric Hospital Enugu for onward treatment and rehabilitation.
Jonathan said Oguns' humility and command of English necessitated his action.
Oguns, who earlier gave her name as Goshen Joshua, is a graduate of Ambrose Ali University, Ekpoma, Edo state .
The Ugwuanyi's aide, further hinted that he came in contact with Oguns on Park Avenue, GRA Enugu, where she was begging for food from a vendor in a pitiful and respectful manner.
"Her expression and use of English language during her conversation with the food vendor was an indication that she was learned but was disorganised because of her mental challenge.
"It was a pathetic sight to behold and I couldn't bear it. I immediately told the vendor to give her food to eat at my expense.
"Emily almost knelt down to thank me for buying her food to eat. This humility and appreciation further encouraged me to probe her further to know exactly what her problem was.
"She told me her name was Goshen Joshua and that she is from Ebonyi state and that everything was okay with her even though she did not hesitate to accept my offer to take her to a psychiatric hospital for proper medical examination.
"Some young men around assisted me in taking her to the Federal Neuropsychiatric Hospital situated at New Haven, Enugu. Unfortunately, the JOHESU strike slowed down her treatment as staffers of the hospital were barely around to render assistance. The strike delayed her admission to the hospital.
"Luckily, we met a Doctor, Tobechukwu Odionye by name, who briefly examined her and requested that I go and buy some prescribed drugs at a particular pharmacy outside the hospital to enable him commence a palliative treatment pending when normalcy returns to the hospital.
"I did not waste time in buying the drugs; Odionye gave her some medication and advised me to bring her back to the hospital whenever the strike was called off.
"Oguns became drowsy after the injection and slept off on our way back to where I picked her along Park Avenue GRA. On getting there, she woke up and opted to go to where she sleeps at night," Jonathan said.
According to him, "I told Oguns to always go to the food vendor to eat as I would be paying the bills.
"She accepted my offer but wasn't going to eat from the vendor. I didn't see her again until June 5, 2018 when I saw her walking along Parklane Hospital Enugu. I quickly stopped my car and called her.
"Immediately she recognised that I was the one calling her, she ran towards me and called me by my name with words of appreciation for taking her to the hospital the first day I met her.
"I then told her that the strike had been called off and that she needs to get her belongings and meet me at the food vendor's place where I first met her so that I will take her back to the hospital for proper treatment.
"She eventually went and brought her clothes, bathing soap, bucket from where she sleeps somewhere in GRA and met me at the food vendors shop on Park Avenue." Jonathan narrated.
Emily Oguns appeared to have won a jackpot as the Governor's aide took her back to the hospital where she was admitted.
"She had been in the hospital for over two months now receiving treatment and recuperating effectively."
Oguns whose health condition had improved tremendously was able to recall a phone number of a man whom she said was her brother.
The number eventually turned out to be that of Oguns' biological father.
Jonathan said that when Emily's father was informed about his daughter's condition, he was full of doubts as to whether she was truly Emily because of the new name (Goshen Joshua) she had started bearing unknown to the family.
He then requested that her picture be sent to him on Whatsapp or a video call made for him to see her face to be sure she was his daughter.
"Dr. Odionye who examined her before she was admitted to the hospital, called her father on video for him to confirm if the lady in question was his daughter. He equally sent her pictures to the man through Whatsapp and he confirmed that she was his daughter," Jonathan added.
Oguns father (name withheld) shocked everyone when he revealed that the daughter's real name was Emily Oguns and not Goshen Joshua.
The doctor informed the man that his daughter was brought to the hospital by a Good Samaritan (Mr. Emmanuel Jonathan) who also directed that the hospital management should commence treatment on her.
At this point, Oguns father opened up to Jonathan and the doctor and told them that the lady was his first daughter who studied Banking and Finance at the Ambrose Ali University and was posted to Abakaliki for her National Youth Service Corps (NYSC) upon her graduation.
He said that it was during her service year that she fell sick. He explained his bitter experience while trying to get her treated of her mental ill health in psychiatric hospital Yaba, Lagos State and in Uselu, Edo state before she left the house years back for an unknown destination.
He said they hail from Igara in Edo state and that he was now more of a living corpse due to the mental ill health of his first daughter who graduated over fourteen years ago at the age of nineteen (19) before her mental challenge.
"Though he has not been able to visit to see his daughter since she was admitted due to hard times, he recently sent a paltry sum to support her treatment.
"He has remained grateful to me and God for the life of his lost daughter. He has consistently prayed that God heals her and provide her with a job." Jonathan explained.
The Governor's aide who commended the hospital management for their professional services and care to Emily, said his major concern now was to ensure that Oguns was gainfully employed after her treatment to enable her take care of herself.
Speaking to journalists, Oguns, however, said that she was not willing to go back to her father's house on the grounds that her stepmom does not really see her as a daughter and she was treated like an outcast in her own father's house just because her biological mum was not living with her father.
She said: "I rather stay back in Enugu with Brother Jonathan whom God has used to take me out of the street where I have lived all these while, than going back to stay in the same house with my step mum.
"I know what I use to pass through in the house in the hands of my step mum and my father does not really know much about it because of his busy schedule.
"At some point, I was made to be in the village instead of being in my father's house in Lagos. I even got a teaching job in a private school while I was in the village.
"It was from there that I finally left without telling anybody where I was heading to because the frustration became too much for me.
"I thank God for Brother Jonathan who has given me a reason to smile once again. Before now, I preferred to be seen as an orphan because of the way I was being treated in my house, but to God be the glory; I am still alive today in spite of all my experience in the street without a home, food and care.
"I am hereby making a passionate appeal to my State Government and the general public to help me with a job which will further serve as an occupational therapy to aid my healing."
Short URL: https://www.africanexaminer.com/?p=45207