Understanding Concept of "Stomach Infrastructure" in Nigeria politics
Featured Contributors/Columnists
Sunday, August 3rd, 2014
Sunday Special: By Oyewale Oyelola
The outcome of June 21, 2014 governorship election in Ekiti state has redefined the act of persuading voters in a keenly contested election. Such inducement is simply tagged "stomach infrastructure."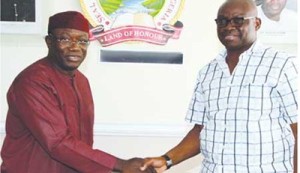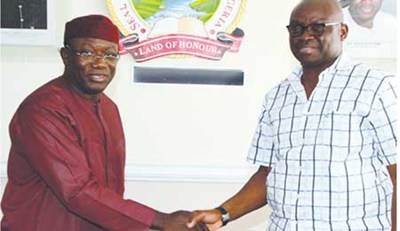 The All Progressives Congress and outgoing Ekiti state governor Kayode Fayemi after losing to Fayose with a wide margin accused PDP governorship candidate of dwelling must on stomach infrastructure instead of focusing on infrastructural development and other people oriented programmes.
You will understand this so called stomach infrastructure with my simple definition; This is a way of inducing potential voters to support a particular candidate in an election. With that simple analogy, all political parties in Nigeria are guilty of this concept.
Electioneering process in the country involves three key players; political party and their candidate, party members and the electorates. These set of people play important role in an election. For example, Political parties usually mobilize their members to sell their flag-bearers to the electorates and the job is not an easy task to organize several meetings, mobilize people to attend their rallies/campaigns. Apparently, the personal business of politicians suffers as they devote precious time to campaigns.
Furthermore, politicians popularly called foot soldiers by party leaders connect with the electorates to know their opinions and wants. Foot soldiers often times advised their party candidates on what to do for the masses.
However, we must not forget that in a normal democratic setting, power belongs to the people and elected political office holders are holding the position in trust for the 'real owner of power' the masses.
Political office holders from president, governors, senators, representatives to councilors must understand the concept of social contract. Social contract simple put is a way of putting the people first in all your activities.
Unfortunately, many politicians after electoral victory disconnect from the masses and mingle with elites/businessmen who on Election Day will stay at home to analysis the election as columnists on pages on newspapers.
Evidently, majority of them would never visit their polling stations to vote. So my question to politicians is; how would your new friends contribute to your electoral victory?
The main thing people should understand is that stomach infrastructure will not give you automatic electoral victory, the perspective of the masses towards you matters alot.
Political office holders must maintain their relationship with the electorates, rather than depending on their Aide and political beneficiaries who are fond of telling politicians what they want to hear instead telling them the reality on ground.
If you still believe stomach infrastructure will give you electoral victory, kindly contest election in your area and see how far you can go with that concept.
Short URL: https://www.africanexaminer.com/?p=15565