Unite Against Electoral Violence, Ekweremadu Urges Nigerians
Latest News, News
Monday, January 26th, 2015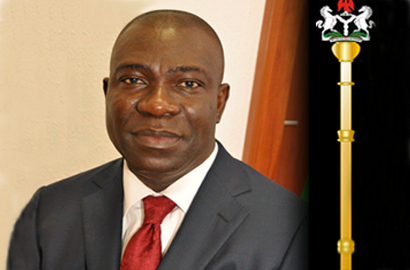 By Ayodele Afolabi – The Deputy President of the Senate, Senator Ike Ekweremadu has called on Nigerians to unite against electoral violence.
He made the call during the conferment of an honorary Doctor of Laws (LL.D) degree on him at the 44th Convocation Ceremony of the University of Nigeria, Nsukka at the weekend.
This was even as he called on the nation's higher institutions of learning to rise up to the task of restoring the dignity of man through quality researches that address the nation's security and development challenges.
Speaking during the event, Senator Ekweremadu who also holds a PhD in Law, stressed the need for rigorous advocacy to keep the youth away from electoral violence.
He charged well-meaning Nigerians to rise up in defence of the national interest and in condemnation of acts of electoral violence irrespective of political, ethnic, and religious leanings.
He warned: "Election is not a do-or-die affair. We are worried about the attacks on some political actors by people in parts of the country other than their own. Let us stand together and call the political elites to order. We must admit that elections will come and go, but that this country will remain. Therefore, we must play politics with every sense of responsibility, ensuring that everybody is accorded his due respect.
"We must also bear in mind that events and utterances that incubate electoral violence start well ahead of elections. We must live with a sense of history and remember that the same tree stump does not trip a wise man twice".
Referring to the motto of the institution, Senator Ekweremadu who is also an alumnus of the University of Nigeria, said the nation was now in greater need for the restoration of the dignity of man.
He added: "Today, human life is cheap unlike in the days of our fathers. Stealing used to be a taboo. Today, people are kidnapped and armed robbers are on rampage unlike our school days. There are so many churches and mosques today, yet we have more evil. Indeed, there is need for all to rise across religious and ethnic divides to restore the dignity of man".
Short URL: https://www.africanexaminer.com/?p=21919