Update: 1 Nigerian Onboard Crashed Algerian Plane
Featured, Latest News, News
Thursday, July 24th, 2014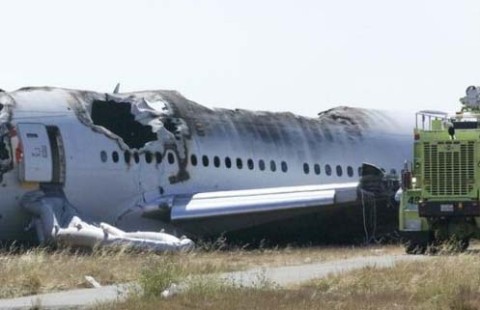 …Officials Say Plane Crashes In Northern Mali
By Our correspondent with Agency Reports
Aviation officials in Algeria have said the missing Air Algérie-operated flight carrying 110 passengers and 6 crewmembers has crashed over northern Mali.
African Examiner gathered that those on board were: 1 Nigerian, 6 Algerians, 51 French, 24 from Burkina Faso, 1 Malian, 1 Belgian, 2 from Luxembourg, 5 Canadians, 1 Cameroonian, 8 Lebanese, 1 Egyptian, 1 Ukrainian, 4 Germans, 1 Swiss, and 6or 7 members of the Spanish crew.
Reports say, the plane's crew requested to change course of the flight to avoid bad weather before losing contact with ground communication.
The plane reportedly came down near the town of Tilemsi, in the Gao region of northern Mali.
Sources say 2 French fighter jets was said to have been dispatched to search for the aircraft.
African Examiner reports that Families of some of the victims have arrived at Marseille airport, where some of the passengers on the missing flight were reportedly due to fly on to.
It is believed many of the French nationals were to take a connecting flight to Charles de Gaulle airport in Paris where an emergency crisis unit has now been set up. An emergency phone number for information on the AH5017 flight is + 33 1 43 17 56 46.
Meanwhile, Mali's President Ibrahim Boubacar Keita said the the wreckage of the missing Air Algerie flight had been spotted in the country's desert north.
"I have just been informed that the wreckage has been found between Aguelhoc and Kidal," Keita said during a meeting of political, religious and civil society leaders in Bamako.
Short URL: https://www.africanexaminer.com/?p=14945